by: Carol Bryant
Social media networks have quite literally, exploded: From pet blogs to microblogs on such platforms as Facebook, Twitter, Instagram, and more, social media is in its prime.
Photos are a huge part of social media, and the right photo can often times make or break a blog post. It is believed that an estimated 300 million photos are uploaded every day onto Facebook. We live in a world of the visual social media aspect.
Here are some tips and resources for creating visually compelling photos for your pet (or non-pet) social media pursuits:
Compress your photo files: BlogPaws Community Member, Karen Nichols, shares this great tip from the BlogPaws Community: "With respect to jpgs, compression refers to making the file smaller by
tossing out file information. More compression results in a smaller file
(by smaller, I mean smaller in file size, not dimensions).
When the image comes out of your camera, it is not compressed (or
compressed very little, depending on your camera settings – with many
cameras you can save your images as superfine, fine and normal — they
are the same resolution, but the file sizes are smaller due to
compression.). For web use, you then resize it and compress it using an
app like photoshop, both steps serving to decrease the file size."  Read more here: Photo compression

Don't Use Other People's Photos (without permission): BlogPaws Community Member, Scrappy @Yorkie Tails shares this in-depth blog post on the "just don't do it" mantra pertaining to using other people's photos. You can be sued for using photos on your blog if not done properly.Our very own Tom Collins writes about using Compfight for royalty-free images.
Crop Smartly: I can't tell you how many photos I see where the cropping is less than stellar. We're all in a hurry, but if you are using images, crop wisely. If your dog is at the park in front of a tree, unless your post is primarily about dogs and trees, skip the tree focus on the dog. Keep your reader in mind and what they want to see. Use proper tags that are SEO friendly in the photos on your blog's back end. These tags are important: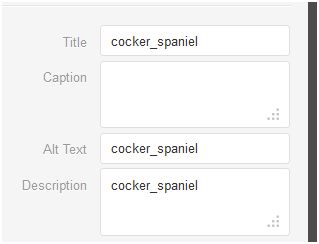 Carry a Camera Everywhere: I am often asked where I acquired the great photos of pets I use on my blog and elsewhere. Simply put: I am the photographer. It is rare to find me without a camera or iPhone at the many pet-related things I attend. If you aren't a traveler, take pictures locally: On walks, when you are out and about, when cruising pet supply store aisles, etc. Sit at the park or attend something like BlogPaws and snap away.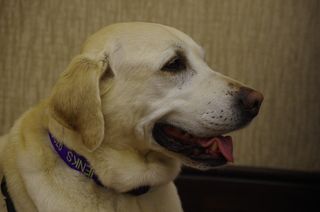 Watermark and Get Creative with PicMonkey (or any number of free photo editing software packages): I use PicMonkey to watermark my photos and to get crafty with fonts and backgrounds. If your pictures are being shared, this will only protect you and drive traffic back to your blog.
Get Creative with Instagram: Have you tried Instagram yet? With the plethora of social networking
sites and services available, who has time for yet one more
app/platform/program? This is one you might want to give a second look.Instagram for Pet Bloggers
Get Flickr: If you don't know about this, now's the time. Proceed to Flickr.com, head over to to advanced search, choose Creative Commons Commercial license and search to your heart's content for content of a visual nature.

Take an Interest in Pinterest: Pin, post, and share but know what you can and cannot pin, as this social media giant continues to evolve. Fellow pet blogger and BlogPaws Community Member, Kol's Notes, writes a very informative Pinterest post based on what she learned at the BlogPaws Conference, so check it out.
Tweet Your Images with Purpose: I've been on more than one occasion when opening a tweet with a photo and the results are lackluster (someone trying to sell me something, an image that is less than appealing, etc). Use Twitter for photo sharing with a purpose. I have my Instagram account set up to automatically Tweet if I so desire.
Join the BlogPaws Community: We have many discussions in the community and help each other out with photo questions and sharing. A very profound and spot-on comment in the
BlogPaws Community from member Jeannette Hartman caught my eye. Jeannete says, "Blogging can be a
lot like one of those mime acts where the mime ends up trapped inside an
invisible jar if you don't participate in a community of people who
share your passions and challenges."
Got a favorite photo tip or app to share?