BlogPaws is proud to announce that Steve Dale will be motivating and bringing his dynamic voice
for and about pets to the 2013 BlogPaws conference on Friday, May 17, 2013.
Do you know who Steve Dale is and what he is all about? Well, we're glad you asked because BlogPaws has the scoop!

Steve Dale,
CABC (certified animal behavior consultant), reaches more pet owners than any other
pet journalist in America and now he'll be adding BlogPaws Keynote Speaker to
his ever-expansive resume.
Who is Steve Dale?
Newspapers and Blogs
Steve writes a twice-weekly syndicated newspaper column
(Tribune Media Services, since 1995); he's a contributing editor at USA Weekend (since 2002) and he blogs at
Petphoria. Host of two nationally syndicated radio shows, Steve Dale's Pet World and The
Pet Minute (together heard on over 100 radio stations, syndicated Black Dog
Radio Productions, since 2001), he is also a
Chicago Tribune blogger and
contributes blogs on various other websites, including for Victoria Stilwell.
Television
On television, Steve has appeared on The Oprah Winfrey Show; National
Geographic Explorer; Pets Part of the
Family; PBS; various Animal Planet Shows and many others. For several
years, Steve was a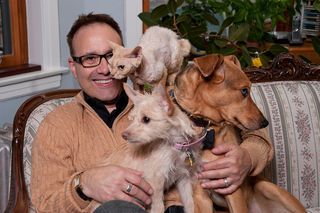 regular contributor to Superstation WGN-TV morning news. And
he formerly hosted Animal Planet Radio.
Special Correspondent
Steve is also a columnist and special correspondent for Cat Fancy and catchannel.com. Steve's
also a regular on regular contributor for WGN Radio, Chicago; and host of a
podcast at WGNRadio.com. In print, he's
been quoted in, the Wall Street Journal,
USA Today, Los Angeles Times, Redbook,
veterinary publications and dozens more.  
Author
Wait, there's more. This pet dynamo is also author of two
e-books, "Good Dog!" and "Good Cat!" (published by the Chicago Tribune), and
the author of several other books, including "DogGone Chicago" and "American
Zoos."
Advocate
And he gives back to and for the animals. Steve is a founder
of the CATalyst Council and served on the Board of Directors from 2008 to 2012.
He's also on the Board of Directors of the Winn Feline Foundation, Tree House
Humane Society in Chicago. In 2012, he cycled off the Board of the American
Humane Association but remains a National Ambassador. Steve also serves on
several advisory Boards, including for Blog Paws.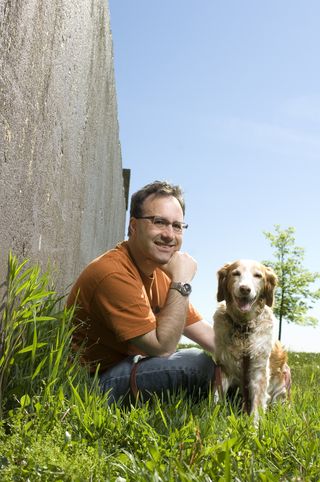 In Chicago, Steve created the Chicago Task Force on
Companion Animals and Public Safety (2000-2010), where they've three-times
overturned proposed breed bans and twice over-turned mandated pediatric
spay/neuter, as well as overturned proposed pet limit laws. The Task Force also
created guidelines for 'doggy day care.' As a pet advocate, Steve has testified
many times against breed specific bans, pet limit laws, etc.
After his beloved cat Ricky passed away in 2002 of feline
hypertrophic cardiomyopathy (HCM), Steve created a fund to raise money to
research this often fatal disease. He's raised well over $100,000 – and as a
direct result a genetic test was created to determine if a gene defect for HCM
exists for two breeds.
Awards
Among Steve's many awards, the AVMA Humane Award (the only
AVMA honor bestowed to a non-veterinarian), Editor
and Publisher syndicated newspaper Feature Writer of the Year Award, AKC
Responsible Dog Ownership Public Service Award, HSUS Pets for Life Award, and
has been honored with over 15 Maxwell's Awards from the Dog Writer's
Association of America and over 15 Muse Awards from the Cat Writers'
Association of America. He's also been honored by the Chicago Veterinary
Medical Association, University of Illinois College of Veterinary Medicine, and
was the first recipient of the Winn Feline Foundation Media Appreciation Award.
In 2012, Steve became the youngest person ever inducted into
the Dog Writer's Association of America Hall of Fame. 
Giving Back
For 10 years his dog Lucy was an animal assisted therapy
dog. To honor Lucy, who passed away in 2011, Steve created the Lucy Fund to
raise money for the American Humane Association Hero Dog Award for Animal
Assisted Therapy. He also serves the advisory board for national animal
assisted therapy organization called Angel on A Leash. He's also on an
organizing committee for the International Organization Human-Animal
Interactions Organizations. Blog Paws is one of several advisory Boards he
serves.
Steve's a regular speaker at veterinary and shelter
conferences around the world, and for shelter fundraisers, and other special
events. Steve's presented at each of the major U.S. veterinary conferences
(numerous times), and he's the only speaker to present in all of the
conferences for the International Association of Animal Behavior Consultants
(which he is a certified member). He's also spoken at the World Small Animal
Veterinary Association Conference, Caribbean Veterinary Conference and many
others.
Two of Steve's favorite honors: Commencement Speaker at
Madison Square Garden for Ross University School of Veterinary Medicine (2008),
and appearing (in 2012) as 59 across in a TV
Guide Crossword Puzzle (pet journalist Steve _ _ _ _).
A FInal Note
Steve will be gracing the BlogPaws 2013 Conference to
address all attendees with the Friday morning keynote and will be on hand all
weekend at the original social media conference for pet bloggers and micro-bloggers,
BlogPaws.
"I do like this conference – many
tips on blogging, and meeting a WIDE variety of bloggers. Fact is, crazy as it
may sound to some, blogging is the best way (maybe short of live radio and in a
different way Facebook and Twitter) to directly and instantly connect with
people," Dale reported. "This will be my third Blog Paws, and am committed to
it!"
Have you purchased your BlogPaws 2013 conference pass yet?