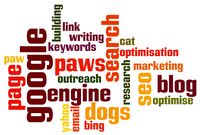 Guest post by Matt Beswick
When Yvonne invited me to write for BlogPaws I was hugely honored and, at the same time, a little nervous about how I would take a topic like Search Engine Optimisation (SEO) and make it both interesting and relevant. After all, as pet bloggers, most of us are here to entertain. To keep things fun. To be unassuming. For most, SEO is far from entertaining or fun.
For me, however, it's almost a way of life. I'm a dog lover, co-owner of a UK based pet supplies website (although my other half, Nicola, would argue that she does all the work), and technical director of a Web Design and SEO company. I spend what feels like every waking moment thinking about creative ways to increase rankings for sites belonging to both myself and those of our clients.

This series will delve into the nuances of complex, ever-changing topic which confuses and frustrates the best of us. From thinking about keyword research and on-page optimisation to link building, outreach and what not to do I'm aiming to give you a good understanding of how to promote your blog to the search engines. So, no point hanging around, let's start with the most important question…
Why Optimize Your Blog?
The answer here is simple – because the perception of success is built on our content being seen by as many people as possible. Fundamental to this is ranking high up the SERPs (Search Engine Result Pages) to ensure that you're getting the highest click through rates that you possibly can. A recent study estimates that the top Google result for a given keyword gets as much as 36.4% of clicks, while second only receives 12.5%.
A good example of this comes from the search term "Pet Blogs". According to Google's Keyword Tool (which we'll talk about in more detail later in the series) this phrase sees 1,300 searches per month. On those numbers, the site that ranks top for that keyword will see an extra 475 visitors from that one search phrase. Bear in mind that those numbers are most likely lower than the reality and you start to see how powerful these higher rankings can be.
But How Do I Get There?
This one is far more difficult to answer. Essentially you're looking at a mix of the following:
Solid Keyword Research to make sure you're targeting phrases that are going to drive traffic;
Making sure that, at a technical level, your blog is helping you rank higher;
Writing your content with SEO in mind;
Expanding your network to drive extra links and social interaction with your blog.
This all sounds very technical and time consuming but don't worry – it doesn't have to be! Over the next few months I'll take you through the basics, throwing a few opinions in here and there, and generally trying to help make more of your blog.