by: Carol Bryant
Three letters than pack so much punch: SEO. Otherwise known as "Search Engine Optimization." I, too, love to write, and if you blog you are probably echoing that same sentiment.
However, writing so that search engines find you and doing so the right way is a completely different undertaking. If you blog, you want to be seen/read, correct? Matt Beswick concurs, which is why he is flying from the United Kingdom to Salt Lake City to speak about SEO to our conference attendees.

Matt is based between Milton Keynes and London, UK and plans to teach folks Search Engine Optimization the Fun Way. Fun AND SEO: It's a win win!
"I'm trying to take the fear out of SEO and make it relevant to bloggers. Writing about something you love is fantastic but all too often you find people who write great content but don't put any thought into SEO," Matt ways. "The end up missing out on a huge amount of reader (and revenue) potential. Hopefully by the end people will feel a bit more inspired and realize that SEO can actually be fun!"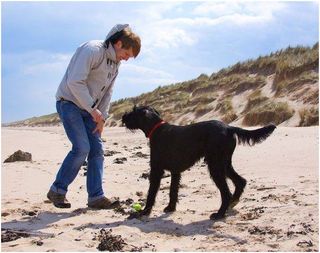 Matt looks forward to getting to meet the people that he self-admittedly has been badgering for links over the last year or so and having some laughs with them.
Is he an animal kind of guy? Beswick grew up on a farm and has always been around animals.
"I am now lucky enough to have a enough space for three dogs of my own. Archie and Lola are both Miniature Schnauzers (my other half, Nicola, loves anything with a beard) and we also have Milo – a Giant Schnauzer. He's what I call my "man dog" and was added to the family when I decided that walking a couple of small pooches wasn't quite manly enough!"
Connect with Matt at http://www.mattbeswick.co.uk, http://www.pet365.co.uk/, http://www.facebook.com/mattbeswick, http://www.twitter.com/mattbeswick along with (very occasionally) http://gplus.to/mattbeswick
Fun funky fact: Matt says "To be honest, I'm not that interesting… but I race in a Go-Karting series (currently 2nd in the Championship) and run http://www.kart365.co.uk to tell people how well (or badly) I'm doing. I also did the Bloukrans Bungee Jump a couple of years ago, which implies that I'm a bit of an adrenaline junky but in reality I'm very much at home when sat on the sofa. Finally, I'm one of the brains behind Pet Pupz, which was one of the largest Facebook games in the early days, boasting over 150,000 daily users. Not sure if that's surprising but I still think it's quite a cool claim to fame!"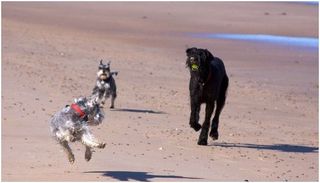 Come to Salt Lake City, meet Matt, and join in the fabulous 3-day event:  BlogPaws 2012
Catch up on our BlogPaws Speaker Series in the BlogPaws Community.