by BlogPaws Co-founder Yvonne DiVita
Let's face it – we all have "real" lives to live. None of us have enough free time to focus entirely on our blogs. Even those of us who are in the business of social media consulting can't always spend the kind of time we should posting in our blogs. And sometimes we just want to look at the stars – like Olive, in this pic. Not sure what she's looking at, actually… but, she's pretty focused.
I'm talking about writing every day, sometimes more than once a day. More posts drive more traffic, so having several up on any given day can take your numbers to levels that show your commitment and attract sponsors or advertisers.
The issue is – writing those posts, creating links within those posts, adding pictures, and tweeting/facebooking them to make sure people see them, is equivalent to a full-time job! How do you manage it all?
Enter: pre-posting. Yes, this means writing a post today that will not be published until tomorrow or the next day. Or next week. On my pet blog, Scratchings & Sniffings, I often put three or more posts in the que to go live over a period of days. This is because I may have time on Monday or Tuesday to add those 3-4 posts, but not have time the rest of the week to publish them. Hence, they are set to publish at a pre-determined time and date. And, I know I have fresh content every day.
The key is in planning. You must have a focus – know what you want to write about on any given day, and write about it. Post videos you find informative or funny. Share links to your fellow pet bloggers. Rant about a particular issue you feel strongly about. Or, support your favorite shelter.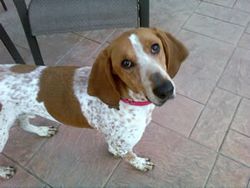 You should also have a folder on your computer dedicated to your blog. I have several blog images folders, one for each blog – S&S, Lipsticking Society, and this blog. Sometimes I take pics from one folder and use it in the other blog – because it works. Having a lot of great pics to use makes your life so much easier when you're posting. BTW – you ARE using pictures, right? Spare me the blog that just writes and writes and writes and doesn't share pictures. Puh-lease! The web is a visual medium. Utilize it! [Chester wishes I wouldn't utilize it on HIM quite so much! He's camera shy!]
So, is pre-posting a bad idea from the perspective of…the reader? Suppose you post about a topic or issue that's 'current'… but as you're posting, the topic drops from trending and when the post goes live three days later, it's old news. Is that bad?
Suppose you're announcing something important – and you haven't checked the dates. You believe the event is happening next week – so you're going to pre-post and have it go live the day before the event. Then, the day after your post goes live, you receive a comment telling you the event was (a) over with already, (b) cancelled or (c) a dud. Is that bad?
No. Neither of those issues is bad. You're not a newspaper. You're a monthly magazine. Sometimes content will be "out of date," sometimes content will only be relevant to a few people, and sometimes content will be supportive- regardless of the date of the event or story you're quoting from.
Use pre-posting wisely. Try not to make the mistakes just noted – but don't fret if you do. The key is to make sure you're true to your blog's purpose and to your readers. Write, write, write – and IF YOU MISS a day, write the next day. We'll talk about missing one or two days…and what that means, another time.
Stay tuned! OH – you know you'll learn ALL of this and MORE at BlogPaws the conference in August? Register today! Still only $179 – best deal on the web!