by: Carol Bryant
So,
did you cross any of the first 50 items we gave you to do post BlogPaws
Conference? In case you missed it, we shared Part One in our "99
Things to Do Post BlogPaws Conference" post. We covered half the list and
ran the gamut of actionable items one can do with the conference being over.
There
are so many things you can do right now to get involved in BlogPaws, jump start
your blogging passion, turn it into a career, network, connect, grow, and
monetize. Without further ado, here are the next 50 things you can do right now
(whether or not you attended the BlogPaws Conference):
50
Comment on the blogs of the BlogPaws 2013
Nose-to-Nose Pet Blogging and Social Media Finalists. These folks
are doing something right, as voted on by their peers and panel of judges, so
find them, follow them, get to know them.
49 Introduce yourself
to 5 BlogPaws community members you don't already know. Not sure where to find
them? The "Find Members" box sits atop the
community. Click that.
48 Start an Instagram
account and follow @BlogPaws there. We'll follow you back.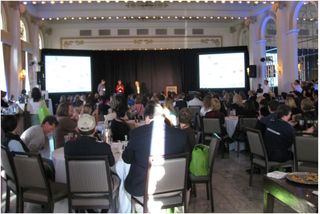 47. Check out Tout
and start making 15 second videos to compliment your blog posts. BlogPaws is
there, too.
46 Add your blog
website where it can be seen in the About Box on Facebook (upper left below the
cover photo). Make sure it is "clickable"; i.e. https://www.blogpaws.com
– so many folks forget to share their blog link where it can be seen.
45 Clear your
calendar on the 1st, 2nd, and 4th Tuesday of
each month to attend #BlogPawsChat on Twitter from 8 to 10 pm EST.
44
Back up your blog. Not sure how or what that even means? We discussed that in
our Monday Musings forum earlier this year. http://community.blogpaws.com/group/blogtalk/forum/topics/monday-musings-week-of-january-14-2013
43
Add the BlogPaws Community member badge to your blog. It's located on the left
hand side of the Ning Community members page.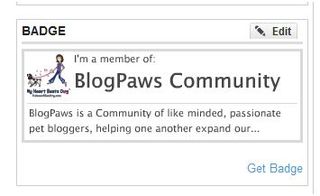 42
Need some ways to get traffic to your blog? Check out our eight
suggestions post.
41
Start planning how you will get to BlogPaws
2014 Conference (and get registered).


40
Overcome any writer's block (and who doesn't get that now and then) with our blog
post writing prompts.
39
Stop giving your time and talents away for free. "Should
you work for free?" Seth Godin wrote a
post with that title back in February. Seth's answer is, "That depends on
what you mean by 'work' and by 'free.'" Go read and think about what it might
"depend on" in your case.
38
Guarantee you'll get the latest BlogPaws news as soon as it hits our "presses:"
Sign up for the BlogPaws newsletter. On the BlogPaws homepage – can't miss it.
37
"Clean" up your blog. Does it look the way you want it? Are you pleased with
its functionality? Is it time to get rid of unused widgets?
36
Check your last 5 blog posts: Is your personality infused into the content? If
not, now's the time to change that. Pepper your posts with who you are: I tend
to forget boring posts but look fondly back on those that gave me pause for
thought and/or made me smile/laugh/ponder.
35
Be the Change for Pets. Are you following the Be the Change for Pets:
BlogPaws Facebook page?
34
Read the
Q&A on the BlogPaws Pet Blogger Network and decide if you are ready to
monetize your blog.
33
De-clutter the pile(s) you brought home from BlogPaws. All those brochures,
pens, business cards and scribbled notes, emails and Twitter handles: Act on
them or toss them. Clean up the environment and start fresh by reaching out.
32 Wondering
what other people had to say about the BlogPaws Conference? We reminded you to
post your own experience; well, don't forget to check out other people's take
on the big Conference, too! In fact, comment on their blogs as you can, even if
it's 2-5 a day. At the end of the week, you'll have at least 30 new friends or reconnect
with someone.  BlogPaws
Linky tool here.
31
Are you blogging about what you want to say or what people really want to read?
Take a risk and try a new style of blog post.
30
New Year's Resolutions are 6 months behind us; time to reexamine them. If you
made none, that's fine, too. Decide one thing you absolutely want to do with
each month from now through December related to your blog.
29
Don't lose the momentum and invigoration you felt at the conference. You can
harbor that year round. Goal setting and achieving are great for the blogger's
soul.
28
Did you make a connection with someone you wish you could see more often? Skype
Video, Google Hangout or a good old fashioned phone call are great ways to stay
in touch.
27
Add people on LinkedIn. This helps expand your professional network and grow
your presence in that social media avenue.
26
Subscribe to people's blogs you met at the conference via email, RSS, or any
other means of keeping track. Not sure what to use now that Google
Reader is going away? We covered that in the BlogPaws community, too.

25
Goal assess while the conference is fresh in your mind. Did you get everything
accomplished you wanted to at the BlogPaws conference? Did you come to meet all
the vendors, learn some new skills, and network? Where did you fall short? Make
mental and/or written notes for next time.
24
Get more involved with Pinterest. Follow BlogPaws there and take a gander at
things you have already pinned with the new
Pinterest search feature.
23
Make your blog posts pop and snap along with implementing some new tools for
your blog with this list of 22 tools that
the blogging pros are using.
22
Watch for our new monthly BlogPaws themes so you can get fully immersed in the
post conference and year-round experience.
21
Pick a favorite blogger or one you would like to get to know better and inquire
if you can guest post for them. In other words, put the "social" in social
media.
20
Check out the books of many of the BlogPaws Speakers. Not sure where there
books are or need a refresher on who they were? Speaker interviews are here.
19
Consider building an email list. If you ever plan to promote or sell something
or want to get your blog posts to the eyes of those beyond blog visitors, this
is a great way to do it.
18
Look up pet holidays and pet-related days and themes for blog content ideas.
17
Discover the archives of the BlogPaws
Tips and Tricks group in the BlogPaws Community.
16
Got an event to promote or want to get involved with one? BlogPaws has an Event area for that in our
community.
15
Consider converting your content to an e-book. Amy Shojai and Sandra Beckwith
talked about this at BlogPaws. It can be done.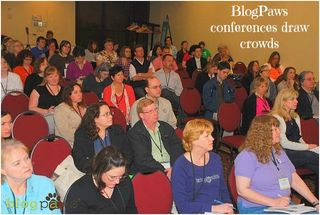 14
Start watermarking your images. Are you using images in your blog posts? We've
become a very image heavy society. Photos attract attention and pique interest
even before the blog post is read.
13
Know what the FTC has to say about blogging
and copyright. Mary Engle discussed this at the BlogPaws Conference.
12
Who did you meet at BlogPaws and what are you supposed to do now that the
conference is over? BlogPaws' own, Felissa Elfenbein, shared tips and ideas on
her Two
Little Cavaliers blog. Cruise on over.
11
Send snail mail thank you's. "But no one's doing that," right? That's precisely
why I love to do it.
10
Check out the header of the BlogPaws
Ning Community. We provide up-to-date information that is important to our
blogging peeps and change it out regularly.
9
If you've joined the Pet Bloggers Network, have
your ad tags installed, and missed (or didn't receive) your invitation to the PBN Members Only
group, please come knock on the door of Tom at Tom@blogpaws.com
8 Follow our weekend editions of BlogPaws
recap and best of posts every Saturday on the BlogPaws blog.
7 Write a book in 90 days. David Pisarra showed us how and
BlogPaws and Blog Manager, Robbi Hess, recapped
it for us here.
6 Update your BlogPaws
Community profile page to reflect the latest about you: Your blog, social
media sites, and more.
5 "Friend" people in the BlogPaws
Community so you can grow your network. 
You know how you can LIKE people on Facebook? In the NING BlogPaws
Community, go to FRIENDS – Invite on the upper left menu of your profile page
and start friending!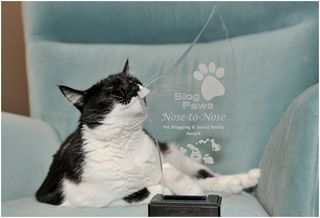 4 Search the BlogPaws Archives on a topic that you want more
information about: SEO, growing your blogging, getting more traffic,
monetizing, and a lot more. The search box on the BlogPaws homepage is your
launch pad.
3 Think outside the box. How can BlogPaws help you achieve your
blogging goals? We're always open to suggestions and hearing what you have to
say. Tell us. You can always drop us a DM on Facebook or email us, tweet us,
etc.
2 Know someone who would be a terrific
speaker for 2014's BlogPaws Conference? Keep a list running and watch for
our call out for speakers.
1 Get the early bird pricing and start counting the days until BlogPaws 2014 turns Vegas upside
down and right side up!