by Yvonne DiVita
BlogPaws 2013 is behind us now. But, it's still fresh in memory and the chatter on social media is buzzing across all channels! The BlogPaws team accepted a big responsibility this year and we rose to the task. It was our job to make this year's conference outstanding and many of you told us we did that. In reality, all of YOU were instrumental in making this year's conference the sell out it was. Without all of YOU (on-site attendees and virtual attendees, alike)…we would not be here, nor would we be able to bring together the strong voices, experienced bloggers, and brands that count – to work together, save pets, and make the world a better place for all. 
I was asked by a number of you to share my opening remarks. So, here they are – enjoy. And do share, if you feel compelled to do so.
Success Breeds Success – 365 Days a Year – from BlogPaws, opening night, May 16th, 2013
I was one of
those kids who wanted a dog so badly, I'd pester my parents every Christmas,
every birthday, every Easter… well, every day. I need a dog. I had to have a
dog. When I was 12, I was blessed with a wonderful dog, a Shepard/Collie mix,
who I named, Missy.
Missy and I
were inseparable. I took her everywhere with me! She was polite, well-trained,
always came when called, and she was the most loyal companion anyone could ever
have. It was, "Love me, Love my Dog."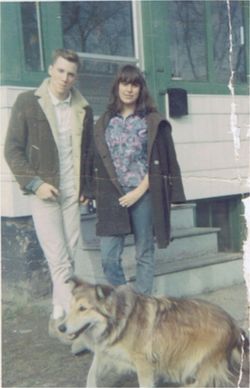 In this
picture, I'm standing in front of my childhood home with a boy from the neighborhood,
and my beloved Missy. I've long since forgotten that boy – but Missy is alive
in memory as if she still lived with me, slept by my bed, and trotted after me
to every friend's house I ever visited.
Oh, the many long afternoons she would
wait by the door, on many a porch… or sit at my feet on those porches, if I
could get my friends to come outside and hang out. Missy was my confidant, my
best friend (who never cared what mood I was in and licked many a tear off my
silly teenaged face)… and at times, in the living room, she was my pillow as I
lay sprawled on the floor watching TV.
Who doesn't
remember their first pet? Who isn't thinking right now about that precious
creature – who shared your ups and downs, who comforted you just by being
there, and who was a lifelong companion?  
Every one of
us has a unique and heartfelt story of that first pet. It's a story we can tell
over and over, and while it changes – as we fondly remember this or that detail–
it remains a strong bond to the past, silver threads woven into the very
essence of our world today and all the tomorrows to come.
Stories are
part of being human. We tell stories every day … 365 days a year, on our blogs,
in our Facebook posts, and everywhere we go. We read each other's stories, and
give the thumbs up in happiness, compassion, or just "oh yeah, been there, done
that." We share these stories with each other because they live in our hearts –
they pump our blood, they connect us to each other.
It's in our
storytelling that we reveal who we are and what we care about. It's in sharing
those stories,  connecting with
like-minded people, that we build our communities – our neighborhoods, if you
will, full of friends and family, bursting with life. 
Recently,
one of the BlogPaws team members, Felissa, shared a great story with us. It
tells of a farmer and how he produces award-winning corn on his farm.
Success Breeds Success: There was a farmer who grew superior
quality,
award-winning corn in his farm. Each year, he entered his corn in the state
fair
where it won honors and prizes.
Once a newspaper reporter interviewed him and learned
something
interesting about how he grew his corn. The reporter discovered that the
farmer shared his seed corn with his neighbors.
"How can you afford to share your best seed corn with
your neighbors
when they are entering corn in competition with yours each year?" the
reporter asked. "Why bother?"
The farmer replied, "Didn't you know? The wind picks up
pollen grains from
the ripening corn and swirls it from field to field. If my neighbors grow
inferior, sub-standard and poor quality corn, cross-pollination will steadily
degrade the quality of my corn. If I have to grow good corn, I must help my
neighbors to grow good corn."
What superb
insight into the connectedness of life! To recognize that your corn cannot
improve unless your neighbor's corn also improves.
So it is with
life in general. Those who choose to be in harmony must help their neighbors
and colleagues to be at peace. Those who choose to live well must help others
live well. The value of a life is not measured by how long one has lived; it is
measured by how one touches the many lives she encounters on a daily basis.
Success does
not happen in isolation, it is the most participatory and collective process in
the universe. To share good practices, ideas and new knowledge with your
family, friends, team members and neighbors, one and all.
It's all about sharing, generosity, and connecting, isn't it?
Indeed. It's
all of that. In the stories we tell about our lives or the lives of our friends
and neighbors, the lives of all the animals we hold so dear, we shape the
future. We, the collective whole that is the pet community online (and
offline), are working right now, this weekend, to accomplish great things with
the stories we will tell. The stories we share. And, the stories we hear from
each other. 
The farmer in
the story recognized the value of neighborhood and community. He recognized
that each of us has a commitment to raise the bar higher, work a little harder,
share a little more, and not compromise the future by being selfish or
egotistic. The pets who claim our hearts need us to use our collective voice –
the connections to each other – to share stories about the importance of
animals to the human condition; how those pets we love so dearly are a health
benefit to the many humans they touch; how we must share best practices, be
open-minded when someone comes to us with a story of their own – and though it
may be foreign to us, we must listen and ask polite questions, if needed.
BlogPaws is
here to help you make those stories reach more ears, eyes, and hearts, 355 days
a year. BlogPaws is here to help you build your neighborhood, online and off, into
a place of trust and safety, a place with stories worth sharing across the
world, each and every day. We're here to enhance your desire to be better,
improve your skills in social media, and connect with folks who are
like-minded, but also, different.
The world is
not meant to be full of just you and me. It's a big place. It's full of people
with grand ideas, wondrous stories to tell; stories that will challenge us as
pet lovers, stories that will push the envelope of who we are and what we
believe.
If we all
strive for that success – the success the farmer was breeding in his focus on
sharing with is neighbors; if we listen with open hearts, we will hear stories
of triumph, tragedy, happiness, hopefulness, sadness, and sincerity. No one,
not one person in this room wants less for the animals of the world (and all
animals are pets, of a sort) than good health and a home of their own. We need
to work together – we need to work on breeding success – by being successful
and helping others be successful. Not just today or this weekend, but all year
long.
Turn to the
person on your left and exchange emails addresses or cell phone numbers. Vow to
take one week in the next year, helping that person succeed at a task that is
challenging them. Then, share.
As the story
of this weekend unfolds, it will be told on Twitter, Facebook, Pinterest, and
many other social media channels. That's the face of who we are and what we are
about. I hope all of you will take time to share the heart of the story – the "success
that breeds success" stories you will feel
and experience this weekend; every time you step out of your room. 
Be social.
Be strong. Be vocal. Be aware. And don't fret if your story doesn't come to
life until you get home. It's there… it's in your heart right now… let it grow
and become part of your success, our success, and the success of each and every
person here.
Let me leave
you with this thought from Ralph Waldo Emerson: (with some edits from me)
"To
laugh often and much; to win the respect of intelligent people and the
affection of children (and pets); to earn the appreciation of honest critics
and to endure the betrayal of false friends. To appreciate beauty; to find the
best in others; to leave the world a bit better whether by a healthy child, or
a healthy pet, a garden patch, or a redeemed social condition; to know that
even one life has breathed easier because you have lived. This is to have
succeeded." ~ Ralph Waldo Emerson