Here's the thing – blog posts are protected by copyright. Copyright – as in "a set of exclusive rights granted to the author or creator of an original work, including the right to copy, distribute and adapt the work. Copyright does not protect ideas, only their expression. In most jurisdictions copyright arises upon fixation and does not need to be registered."
This means this post belongs to me. Me, Yvonne DiVita, at BlogPaws, cause I wrote it. You did not write it, therefore, please do not copy it and post it on your blog. No, not even with attribution. Before you do such a thing, you should ask. Me. "Can I use your post on copyright?" you might say. And, I might reply, "You may use some of it, with attribution and a link to the post on the blog."
I'm reminded of the seriousness of copyright on the web (and elsewhere) by a discussion with a client. This client is an intelligent person – he has been using the web for awhile – and he has decided to blog. He sent me a blog post with a picture and I asked him where he got the picture. "On Google," he said.
"Is it copyrighted?" I asked.
"Um…probably not," he said. "It was on Google."
ARRRRGGGGHHHHH! Google does not own copyrights! As Lisa Barone notes in this post on her site, "A Quick & Dirty Legal Guide for Bloggers"… "that image you found through Google Images and slapped up on your blog? Yeah, that's not yours. It belongs to the person who took it. If you need images for your blog, you may take the photos yourself, buy them from a stock photo site or learn how to use Flickr's Creative Commons photo search. You can't just swipe them off the Internet. Those belong to people."
Pictures aren't the only thing many otherwise smart people think are "free to use" just because they are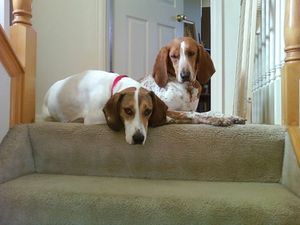 on the web. Putting content online does not dismiss copyright! Everything is copyrighted the moment it's put into writing or print or created by an individual. You can't copyright titles – but if the title of a work also represents the work in other areas, the individual may have trademarked it so – be careful when you "steal" titles. Trademark is another story for another day.
Today, suffice it to say that copyright is serious business. What's mine is mine, what's yours is yours, and neither one of us is legally allowed to take the other's work in its entirety, for our purposes. Even if we say where it came from.
I hear you asking about "fair use". Everyone always wants to know what constitutes fair use. Well, if you follow the concept of the word "fair," you're probably safe. However, to be clear, Lisa recommends you visit The Electronic Frontier Foundation where they give a great breakdown of what's fair. NOTE: content on Government sites is freely usable. All of that is in the public domain.
Interestingly, facts are not copyrighted. Reporting facts is allowed. And the fact is, make sure your facts are correct – just because I write something doesn't mean it's true. Double check the facts, which has nothing to do with copyright, it's just good writing.
Another way to use copyright is a Creative Commons License. Visit to learn other options – such as
Attribution-NoDerivs 3.0 Unported:
Attribution — You must attribute the work in the manner specified by the author or licensor (but not in any way that suggests that they endorse you or your use of the work).
Attribute this work: 
What does "Attribute this work" mean?
The page you came from contained embedded licensing metadata, including how the creator wishes to be attributed for re-use. You can use the HTML here to cite the work. Doing so will also include metadata on your page so that others can find the original work as well.
No Derivative Works — You may not alter, transform, or build upon this work.
And there you have it. A quick overview of copyright. Any questions?