Guest post by Carol Bryant
We're all busy, social networks abound, and the choices by which to spread a message, mantra, or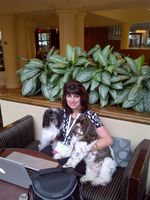 muttering are plentiful. That stated, LinkedIn is a great tool to explore for professional message building and branding, growing a business-oriented network, and/or establishing oneself as an expert in a particular field.
If any of the following statements have crossed your mind, LinkedIn might be something worth exploring:
"I can't find professional like-minded people with which to network."
"I like Facebook, but I wish there was something similar with a business feel to it."
"If only there were groups that shared my interests, views, and/or thoughts."
"I have so much knowledge about pets. I wish there was a way to share it."
"I'm looking for a new job, freelance gig, or just to spread the word about my blog."

What is LinkedIn? Touting itself as the world's largest professional network, there are presently 120 million members on this business social networking site that launched in May of 2003.
How can LinkedIn help a pet blogger?
Groups: Join one or start one. Looking for fellow pet writers? Pet industry experts? Dog rescue people? Explore the groups section to request membership to a variety of discussions in one of thousands of professional groups. Some groups have open membership and others are members only, the latter which you can request to join.
Connections: The more one adds connections, the more times a profile can be seen by hiring managers, companies, and human resource departments, and like-minded people.
Own A Blog: Make blog ownership part of your profile. Owner, writer, creator, CEO of Best Pet Blog Ever: Tell the world via LinkedIn profile page.
Skills on Display: Showcase areas of expertise. Knowing WordPress, Blogger, and other blogging platforms are all skills. Put them on display in a LinkedIn profile.
SEO assistance: Looking for words to incorporate into press releases, blog posts, and other forms of professional communication, or perhaps a resume? Search for professionals in similar professions, aka bloggers, and peruse the landscape.
Answer a Question: Part of LinkedIn's many features is its LinkedIn Answers forum. Ask questions regarding a specific topic or industry and/or become an expert in a particular topic.
Job Search: If looking for work is on the agenda, browse the LinkedIn offerings by a variety of fields, such a region, industry, or job function. There is also a paid version of Job Search.
Competition Monitoring: Network updates provide feeds of connections and their friends, their groups, as well as recommendations made. When people switch jobs or add a title to their profile, this is all easily accessible.
Sense of Community: Blogging and writing in general can be isolative. Connecting with like-minded people who are going through similar trials and tribulations fosters a sense of community and makes the writer's blues dissipate.
Learn more by Googling "LinkedIn tutorial," to see if LinkedIn can become part of the chain that is a pet blogger's ever-expansive social media network.
Carol Bryant has traveled with dogs for over 18 years and is touted as a dog product and travel expert. A frequent media contributor, Carol has appeared on Animal Radio and Oprah Radio's Gayle King Show, WBAL-TV, News12CT, and as a guest speaker at conferences and seminars about social media, writing, dogs and dog travel. She is also a two-time nominee from the Dog Writers Association of America.  Visit her blog at www.fidoseofreality.com and the FIDO Friendly magazine blog at www.fidofriendly.com/blog, winner of the Best Dog Blog from Dogtime Media.