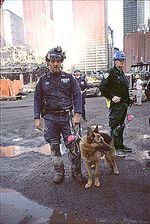 As we all take time today to remember the tragic fall of the Twin Towers ten years ago, let's also remember the four-legged heroes who gave their all to the search and rescue efforts.
As noted on Animal Planet: "Alongside the many brave human heroes, we should also remember and honor the quietly heroic Search and Rescue (SAR) dogs who, along with their handlers, risked their lives to help save victims of the World Trade Center attacks."
And, to that end, on The Bark, this announcement:
With the tenth anniversary looming, Dutch photographer Charlotte Dumas tracked down 15 surviving rescue dogs who assisted emergency crews searching for survivors. She traveled around the country and photographed these aging heroes in their homes. The noble and vulnerable images are a beautiful tribute to the efforts of all the SAR teams in those frightening and challenging days.
The portraits have been collected and will be published on 9/11/11 in Retrieved, a paperback volume with Japanese binding. (Available from The Ice Plant.) In addition, seven of her favorite images will be sold at a special silent auction to benefit the First Responder Alliance, which helps rescue and recovery workers and their families develop critical support systems.
The auction will be September 29, 2011, 6–8 pm at Clic Gallery, 255 Centre Street, NYC. The seven auction prints will be accompanied by the photographer's personal notes as well as memorabilia including snapshots of the dog at work during the aftermath of the 9/11 attacks.