by: Carol Bryant
Legally, what can a human being do if a pet is left behind
in a hot car? These are the thoughts that keep me awake at night, and I am not
alone.
In light of Pet Safety Month being the focus here at
BlogPaws throughout July, this topic lends itself well to today's current
times.  No matter where you are located,
at some point, there will be a hot day and that hot day will lead to, without a
dog, pets being left behind in unsafe environments: a vehicle.
"Young dogs trapped in hot car with no water for at
least 8 hours"

"Owners warned over dogs left in hot vehicles"
The headlines are blaring, yet it happens over and over. I've
even recently seen a wonderful post from a fellow pet blogger about what
it's really like for a dog to be left in a hot car. Not good, friends….not
good.  We're talking fatal….and fast.
So what can you and I do legally if we see a dog in a hot
car? Read on…
At a Canadian Walmart recently, a situation involving a dog
left behind on a hot day in a car made international headlines. Why?
The employee was fired for politely telling the customer it
wasn't a good idea. When reported to her manager, she was promptly fired.
Lovely. Just lovely. You can read the whole story here.
So what can we do without fear of repercussions? Speak up
and act within the guidelines of the law, yes.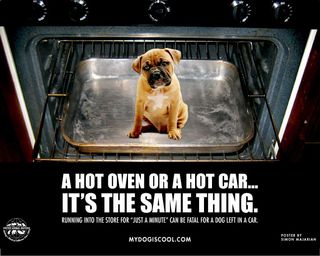 Looking Back
A family member reminded me of an act I engaged in as part
of my pre-blogging days. About 15 years ago, I saw a dog in distress in a parking
lot at a retail store. I reported it to the service desk, where an announcement
was promptly made.  Would the owner of a
red Nissan Saturn come to the service desk, blah blah blah."
Said person never came forward. I went back outside, got my
water bottle and started giving the dog water through the 2-inch area of
breathing room the driver called a rolled down window.
The dog feverishly lapped up the water. I panicked and went
back inside. Again another announcement. Nothing. I called police and they were
going to try and enter the vehicle with whatever it is police used to unlock a
door 15 years ago. The owner surfaced. The officer told her how wrong it was
but not before she told me where I could go bleep myself.
Some people will never learn and this was completely normal
to her. It isn't normal to me or to the millions who feel the same way. Here's
what you can do, from a legal perspective:
In 14 states it is illegal to leave a dog behind in a car.
YAY for these 14 states that include New Jersey, Minnesota, Maine, Illinois,
California, Arizona, Nevada, New Hampshire, South Dakota, North Dakota, New
York, West Virginia, and Vermont.
The Animal Legal and Historical Center has a complete table
of state
laws and what it all means here as it applies to pets in parked cars.
Personally I don't leave the scene until the situation has been resolved. This
much I know is true.
Legally though, did you know that right now, for example, in
North Carolina, "state law doesn't clearly allow or disallow first responders
or emergency personnel from breaking into a vehicle to rescue an animal in
distress. Some localities have passed ordinances to that effect, but she said
responders in other places aren't sure what legal authority they have in such a
situation." The House approved
a bill recently to save dogs left behind in hot cars.
Here is what you can and should do legally:
First: Try to Locate the Pet Parent
Do as I did, enter the store and ask for an announcement to be made.
Second: Politely Inform
Nicely inform the pet parent of the dangers and keep flyers on hand (I have
them in my glove compartment at all times).
Third: Call 911
With 14 states having laws on the books, you 14 are in luck. Other states and
counties are on a case-by-case basis but it may constitute cruelty.
Without a doubt, do something. I have even seen ferrets in cars on a hot
day. This applies to all animals.
We invite you to take part in our BlogPaws pet safety blog hop and/or photo
contest to educate people as well as win some pet safety prizes for you.
Pets in Hot Cars Flyer: http://images.akc.org/pdf/GDFLY1.pdf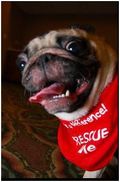 Did you ever encounter a pet in a hot car? What did you do? BlogPaws wants to know…