Guest post by Blog Manager Robbi Hess
I don't know about your pets but Henrietta is hyperactive when anyone walks near the door let alone having a parade of tiny people in costumes that are looking for candy.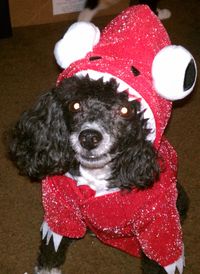 Halloween, while fun for the kids, can be a stressful time for your pets, here are some tips to make the day as enjoyable — and safe — for your pets as possible while allowing you to enjoy the smiling faces of the little trick-or-treaters: 
Candy is not good for your pet. Chocolate can be deadly for dogs any time of the year and at Halloween when there is more candy than usual lying around, make certain that your pet can't get to the stash.
Candy wrappers can be as deadly for your pets as the chocolate. If you have a cat, you know that it will be drawn to the crinkly, bright candy wrappers and while he or she may just bat it around for a few hours, there is a chance it will swallow some and it can get stuck in the digestive track.
Don't leave pumpkins with candles sitting on an area where a dog with a large, wagging tail can knock it over. Ditto for the cat in your house, the flickering of the flame is very alluring to a cat and it may inadvertently knock the pumpkin over and start a fire.
If you're going to be out walking around with your children to go trick-or-treating and decide to dress up your dog, keep in mind that unless your dog is accustomed to getting dressed up, donning a costume in addition to the noise and distractions of Halloween could be sensory overload. Your pet will be under enough stress and if a costume – while adorable – could add to it.
Even if your dog is the most social animal on a daily basis, seeing children dressed in costumes could turn even the most docile dog unfriendly. It's best to keep your dog away from the door while you're handing out the treats.
Another reason to keep your pet away from the door is that you don't want it getting spooked and dashing out into the night.
Keep your cats locked in a pet-friendly room during the trick-or-treating festivities. If your dog will be calmer in his or her crate during the time the kids are out knocking on doors, that would be your best bet to keep him safe.
Make certain you've taken your pet outside to do his business before the Halloween fun begins that way you can stand back and enjoy the smiles on the faces of the children as they knock on your door!