Gust post by Caroline Golon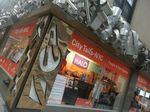 June
was a good month for pets in New York City! 
That's because Halo, the natural pet food company co-owned by Ellen
DeGeneres, took its philanthropy efforts to the streets of New York City by hosting a "Pop up Shop" throughout June at The Corner, located at the Roger
Smith hotel, 501 Lexington Ave. at 47th St.
The
month long event, "Halo City Tails – NYC," united pet lovers, provided easy
ways to help pets in need, and engaged customers with the Halo brand and
mission to give back to the community. 
Through
regular adoption events at the shop, Halo helped NYC pets find forever homes
and raised thousands of dollars for the Halo Pet Foundation, dedicated to
helping pets in need. And, 100% of donations to the Halo Pet
Foundation
are granted to animal welfare and rescue groups because Halo, Purely for Pets
underwrites all operating expenses.  
Plus,
NYC area shelters and rescues will soon be enjoying some delicious, healthy
natural Halo Spot's Stew because, at participating NYC retailers, for every
dollar spent on Halo food during the month of June, Freekibble.com pledged to
donate 1 meal to an area shelter.  Final
numbers aren't available yet but there will certainly be some full bellies as a
result of New York generosity.
We
love when brands in the BlogPaws community find innovative ways to help pets in
need!
(Photo credits: Halo, Purely for Pets)