By Guest Blogger, Chloe DiVita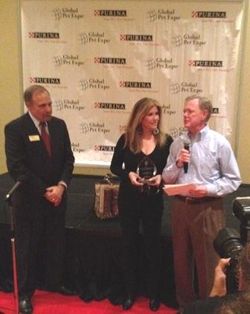 As a BlogPaws Team Member I was lucky enough to be invited to the Purina Media event at Global Pet Expo this year where I got to meet Jill Rappaport, the Today Show's Pet Correspondent. While I knew who she was and I knew she had made an impact on the life of many shelter pets, I did not realize just how big her heart is when it comes to animals. I believe she put it best when she said she has "more (pets) than a sane person, but less than a hoarder." I think many of us can relate to that!
Following Global Pet Expo, Jill shared her story with me and climbed a few notches on my admiration list. Her journey to becoming the Today Show's Pet Correspondent began with her German Shepard Jack. At the time Jack was 11 ½ and after an accident injured his leg, bone cancer was found in it as well. The options Jill was presented with were amputate or euthanize. Both made her sick to her stomach. She and her Vet knew that Jack had plenty of life left to live, but Jill had been down this road before. She had a dog that battled cancer and only lived a few weeks after doing an amputation. She did not want to go through that again.

After trying alternative treatments the choice to amputate was made. Jack had a hard time coming out of the anesthesia and couldn't walk at first, which was hard for Jill to watch. But, Jack was strong, as Jill knew, and after 12 hours he was up and pulling Jill with all his might to get him out the door. He wanted to go home. While the Vet really wanted Jack to stay for at least 36 hours, Jill knew her dog. And she knew that you have to be your animal's advocate. "No one knows your animal the way you do." So she took Jack home to heal, and heal he did.
Watching Jack changed Jill's life. He had to learn to adjust his body/weight and re-train himself to walk and run and play. But, run and play he continued to do and Jill watched and became inspired. Jack taught her the meaning of resilience and living the best life and with that she went to her boss and said that she needed to be an advocate for animals. Luckily her boss agreed and since Jill has been making an impact of the lives of many pets in shelters.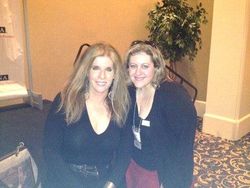 Jill has a 100% success rate for all the animals she features on the Today Show's Bow to Wow feature. One of her best memories so far is from the first airing. Bow to Wow featured two older Wheatons who needed a home together, something that is even hard to do with two young dogs. But she did it. She featured them and they got adopted! Jill wants to encourage people to visit shelters and seek out your next pet from one and not feel afraid or saddened by the shelters. "You're sad? How about them? You can adopt the most amazing animals! Just get past your fears."
Jill is the spokeswoman for three charities: Tails of Hope Foundation, Animal Care and Control of NYC and the Riedel Cody Fund. And to further her mission and continue her support of these charities, she is launching a collar and leash line promoting rescue. I don't know exactly what the leashes and collars will look like, but I do know they have sayings on them promoting rescue. The sale of these leashes will benefit Jill's three charities and in turn benefit the lives of many pets.
We'll have to wait until April 5th at 2:00pm EST when the line premiers on HSN. It will be featured again on April 6th at 11:00am EST, and during the show there will be animals up for adoption modeling. Tune in and maybe you'll end up with a leash and a new rescue pet!