Integrating Social and Search for Your Blog's Benefit: How cool and informative does that sound? If you are a blogger of any variety, SEO and search and how to merge them to get the maximum
benefit from both is a pivotal topic. And one that Lorie Huston, DVM, will be presenting as an educational session for this year's BlogPaws Conference.
Dr. Lorie is no stranger to BlogPaws. This is her fourth time coming to the conference, and rightfully so: She is one of the top pet bloggers and imparts her knowledge and experience to our attendees. Here's the scoop on what to expect when Dr. Lorie goes front and center:
BlogPaws: Thanks for joining us, Lorie. Your session sounds awesome, very timely, and spot on with what so many of us struggle with. What can attendees of your session hope to take away?
Lorie Huston: I hope people walk out of my session with some ideas that
they can implement to draw more visitors to their site. I'll explain why using
both SEO and search is more effective than using one or the other. I'll try to
take the mystery out of both. I want people to walk away feeling like they have
some tools they can use to take their blog to the next level in terms of
growth. I would like the session to be interactive so I invite everyone to
bring their questions.
BlogPaws: What's your favorite aspect of attending BlogPaws conferences?
Lorie: Networking, making new connections, catching up with
"old" friends, learning.
BlogPaws: We can relate. As a vet, you must have animals in your family. Give us the scoop.
Lorie: I have 6 cats: Rusty, Merlin, Rhette, Dillon, Lilly, Midge. All
are aged between 5 and 8 years. Four are male: Rusty, Merlin, Rhette, and
Dillon. Lilly and Midge are girls. Lilly is my "special needs" cat.
She's a tripawd. She doesn't know she has a "handicap" though. She's
actually more graceful than the boys, especially Rhette and Dillon.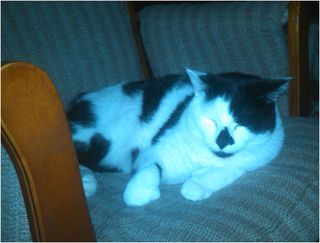 BlogPaws: Sounds like a houseful! Since we're talking fun, we're asking all speakers to tell us what is something about you people would be
surprised to learn?
Lorie: I 'm a veterinarian now and love the science involved with
practicing. When I was in grade school I almost failed science though. We were
studying astronomy that semester. I guess it's a good thing I don't have to
know anything about the planets and stars to treat dogs and cats.
BlogPaws: Where can folks connect with you?
Lorie:
Pet Health Care Gazette: http://www.pet-health-care-gazette.com/
Social Media Savvy Pets: http://social-savvy-pets.com/
Twitter: @lorieahuston
Facebook: http://www.facebook.com/VoiceOfPetCare
Google Plus: https://plus.google.com/u/0/114762402823673897238
BlogPaws: What is one blog you visit at least daily?
Lorie: BlogPaws, of course.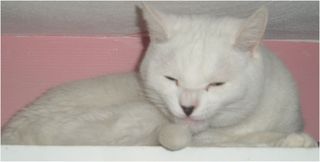 BlogPaws: Any other favorite must-read blogs?
Lorie: Fidose of Reality (I think you know that blogger
Carol…LOL), Pawcurious, Dr. V Dancing Dog Blog, Mary Haight.
BlogPaws: Good array of choices! Looking paw-ward to seeing (and hearing you) at BlogPaws.
Ready to take your blog to the next level or learn how to
get started? BlogPaws 2013 Registration is in full swing. Join us May 16-18 in
Tyson's Corner, Virginia. BlogPaws is a pet-friendly 3-day life changing
conference! Register for BlogPaws 2013 here.
P.S. You will have access to a variety of "tracks,"
including 101 for Beginners, 201 for Intermediate level, and even a Pro Level
for seasoned bloggers who want to take their blogging and goals to the next
level. An exclusive 4th track will cover a variety of topics from
Law to Lifestyle to Be the Change for Animals