Many of us find ourselves being tapped into for expertise we demonstrate on our blogs. If you're approached to do an interview for another blogger, a news show or website, or an event happening in your region focused on your blog topic, here are some questions to ask for yourself. The key is to always be prepared – and these questions will make sure you are.
These questions come from Ragan's PR Daily. It's written by Brad Phillips, posted on September 20, 2011. "9 Questions to ask before every media interview." As usual, I'll share several and ask you to visit Brad's article for yourself to read the rest.
1. What's your name? No, not YOUR name. The name of the reporter. Brad also advises asking what news organization the reporter represents and if they cover a particular topic.
4. Who else are you interviewing? Sometimes they'll hem and haw, he says, but this is important in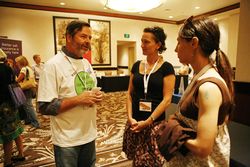 helping you "get a sense for the tone of the article". In other words, are the others being interviewed on the same page as you, or in a totally different universe?
7. Is there anything else I can help you with? Always offer to provide more resources to substansiate your point of view. Photos, videos, quotes from other experts, or even someone else to interview.
Read the rest of "9 Questions to ask before every media interview" and share your thoughts with Brad and with us.
What do you do to prepare for an interview? What's the 'dumbest' question you've ever been asked? What's the best thing that ever came of an interview you were part of?