Guest post by Blog Manager Robbi Hess
I read a statistic the other day that of all of the people who say they "have a book inside them" less than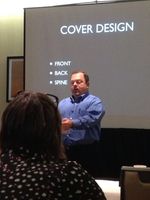 5% of those people will actually put pen to paper or fingers to keyboard to see that dream through to fruition. For those writers that are determined to get the idea out of their heads and into the hands of readers, David Pisarra, author of What About Wally, spoke to a roomful of wanna-be authors at BlogPaws 2013 and outlined an action plan to take the book from idea to published format in 90 days. 
Here are the takeaways from that session: 
Consider this — if your book will be 100-120 pages long that means you only have to write about a page a day! How easy is that? 
Make an outline for the book, but consider them chapters. The ways to outline included: alphabetically, chronologically or by topics. Consider what your book's about, then think of your outline as chapters — it may be easier than facing a blank page and fearing the need to outline it! 
Determine your title. Knowing the title of the book before you even begin writing will help drive the process and shape the material you include. 
Write your foreward — the who you are, what you do and why you are the best person to have penned this book. Don't forget to include information to let the reader know why he or she should care about you, your book and the topic. 
Find an editor for your book. Having your mom or your significant other read your work isn't doing you any favors; find a qualified editor to go through your book and make it as error free as possible. 
Consider self-publishing. There are many options available including Lightning Source or Lulu or any number of the ebook platforms available. 
Find a graphic artist to design your book cover. If a "picture speaks 1,000 words" so too does your book cover. It could be the cover that initially grabs the attention of a potential reader even though it will be the content that makes them open their wallets. 
Sit down and write. Bascially, getting the words to document is the hardest part of the process, but the most necessary if you're going to be a published author. 
Do you have a book that you just need to write? What's holding you back?