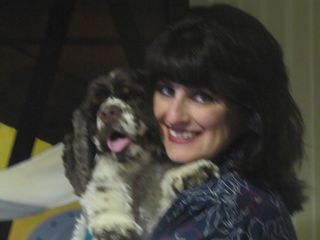 by: Carol Bryant
Congratulations! You
took the first step to connecting with one of the biggest and best 24/7/365 pet
blogger and micro-blogger communities.You are here reading this post and that is the jump start into pet blogging and/or microblogging.
BlogPaws is the first to begin
promoting pet health and welfare via social media, and the first to start a
conference for pet parents and pet bloggers to connect with friends and brands
nose-to-nose and face-to-face. Whether you're blogging about your pet or about
pets in general, or just reading blogs about pets, and looking for a community
to be a part of, the BlogPaws Community welcomes you! Whether you are a seasoned veteran, new to all of this, and/or somewhere in the middle, keep reading: We've got news….

Our community site attracts hundreds of pet bloggers, pet enthusiasts,
and pet people- on Twitter, Facebook, LinkedIn, Tumblr & Squidoo. We work
with brands eager to tap into a vibrant, vocal community of serious writers,
bloggers, tweeters and pet lovers who live to serve animals the world over.
BlogPaws is the go-to resource for pet people & brands to partner on
projects and campaigns using social media tools. We are the first to award pet
bloggers for their quality work with the BlogPaws Nose-to-Nose Pet Blogging and
Social Media Awards and a safe, trusted community for pet parents and
enthusiasts. Oh, by the way, we don't dictate what you consider a pet, either.
Yes, we know chickens are pets. Pigs are pets. We love birds and turtles and if
you consider it a pet, it's a pet!
Whether you are new to pet blogging and/or looking for bloggers to
connect with or are a veteran blogger interested in more about this amazing
dynamic of pet blogging, The BlogPaws Community is for you!
Here's a 6-step plan to what you can do now and in the
future to maximize your BlogPaws experience:
Engage with the BlogPaws Community: http://community.blogpaws.com

Here are three tutorials,
combined total of 15 minutes, to teach you the lay of the land and how to get
around (easy peasy, by the way):
Sign Up for the BlogPaws E-Newsletter
Stay current on pet topics,
news, health information, be the change for pets, and more by getting this
e-newsletter delivered to your inbox. We never sell or give away emails. Sign
up on the BlogPaws homepage.
Follow the BlogPaws Blog
Got a favorite blog reader?
BlogLovin, perhaps? Put BlogPaws.com
in one of the must-visit blogs you ready daily.
Apply to Monetize in the Pet Blogger Opportunity Network
Apply for opportunities for Pet Bloggers and other social media influencers to get paid
for your time and creative effort. If
you have questions about the BlogPaws Pet Blogger Opportunity Network, we have
a complete FAQ here.
Come to the BlogPaws Yearly Conference
Bloggers and micro-bloggers are encouraged to attend the BlogPaws
pet-friendly 3-day life changing conference! You will have access to a variety
of "tracks," including 101 for Beginners, 201 for Intermediate level, and even
a Pro Level for seasoned bloggers who want to take their blogging and goals to
the next level. An exclusive 4th track covers a variety of topics
from Law to Lifestyle to Be the Change for Animals. Register for BlogPaws 2014
here. 
You can get a taste of what happens at BlogPaws Conferences with this
paw-tastic video showcasing our latest conference: http://youtu.be/Dxs88nGLs7o 
Follow us on Social Media
BlogPaws is growing by leaps
and bounds, and we want you to be a part of it. Find us on Facebook at http://www.facebook.com/BlogPaws and on Twitter at https://twitter.com/BlogPaws. We are also on Pinterest, YouTube, and
Instagram.
We have three-times-a-month Tuesday night Twitter chats from 8 to 10 pm EST, so
we encourage you to connect there and grow your own following. Hashtag
#BlogPawsChat.
If you have questions, you are welcome to reach out to any of our staff,
starting with Carol Bryant, PR and Marketing Manager at carol@blogpaws.com
or Felissa Elfenbein, BlogPaws Blogger
Outreach and Communications Manager at Felissa@blogpaws.com.  
BlogPaws: Shaping social media excellence, influence and
education one amazing pet parent at a time.