Post by Blog Manager Robbi Hess
Whew! It has been a hectic August around BlogPaws Central, so hectic, we didn't bring your round up of all the great posts we've shared the past two weeks! Grab your coffee, snuggle your pet on your lap and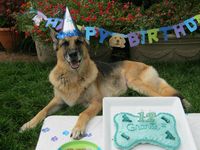 settle in to check out all you might have missed!
We are loving our themes (almost as much as we love our fur-iends!) and the theme that has taken over August is Celebrating Senior Pets. We're writing about them, hosting photo contests featuring them, having #BlogPawsChat on Twitter about them. 
If you have a senior pet, jump over to the BlogPaws Community and check out our contest and read all that we're writing about this month!
What an action-packed week and you just know we have more excitement coming for the next week as well! We'd love to hear from you, though. What topics would you like to see covered? What burning pet questions would you like to have answered? Drop us a line!