Guest post by Lorie Huston, DVM
By now, you've probably heard about BlogPaws "Bring Your Vet to BlogPaws" promotion but you may be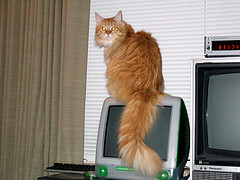 wondering what kinds of questions your veterinarian might ask and how you could answer them. Here are some of the most frequently asked questions veterinarians have about social media and blogging.
Why Should I Pursue Social Media and/or Blogging for my Practice?
 According to a Pew Internet Research survey done in December of 2010, 77% of adult Americans use the internet and 78% of them use the internet to look for information about a product or service.
What that means for your veterinarian is that her clients are already online looking for her. But her competitors are online also and if her clients can't find her, they may very well find one of her competitors instead, resulting in lost clients and maybe even a decline in her business.

I Market My Practice Offline. Why Should I Market It Online?
You need to market your business where your clients are looking for you. And your clients are looking online. The Yellow Pages and similar offline marketing are no longer totally effective. (After all, how many people do you know that actually use a phone book nowadays?)
I Have a Website Already, Isn't That Enough?
A static website is a good start but if it's not helping you to connect and communicate with your clients and prospective clients, then it's not enough. Social media can help you form relationships that are simply not possible with a static website, even if you have pet portals available.
People prefer to do business with others they like and trust. Social media can help you build bonds with your clients that will tie them to your practice and also help attract new business.
What Can Social Media and Blogging Do for My Vet Practice?
Utilizing social media and blogging can help you attract new clients to your hospital. It can help you build client loyalty in existing clientele. It can also help educate your clients.
Involving your staff in promoting your practice through your social media networks can also foster a sense of pride and good morale in your office.
 I'm Concerned About Negative Comments and Bad Reviews Online
That is a legitimate concern. However, not having a presence online will not keep unhappy or unreasonable clients from posting negative comments or bad reviews about you or your practice. In fact, the best defense is a good offense and having a strong online presence can shield you from some of those bad comments and reviews. If you've done a good job bonding with your clients and have a loyal client base, you'll be surprised how quickly they will rise to your defense if the situation calls for it.
What About Potential Liabilities With Online Activities?
Liability is another legitimate worry. Fortunately, BlogPaws Vet Track will have Douglas Jack, an attorney "dedicated to the law as it relates to the practice of veterinary medicine," on hand as a speaker to address those legal issues that affect veterinary bloggers and social media users.