Guest post by Blog Manager Robbi Hess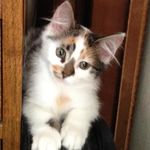 I recently adopted a ktten that I'd seen a picture of on Instagram. She was available for adoption at the newly-reopened PAWs Animal Shelter. Even though, in the past we'd taken in strays and even "adopted" kittens from roadside fruit stands, this was my first formal adoption from a pet rescue. 
Once I got there I wondered about volunteering my time and talents. I knew I couldn't work at the actual shelter because truly our house isn't big enough to accommodate all of the pets I'd want to bring home and because,for the most part, I am scared of dogs (other than the Diva Poodle Henrietta). 

I have other talents such as social media and blogging, though that could certainly help the shelter and help get the pets adopted. I looked at their revamped website and didn't see much activity, I couldn't find an active Facebook page and even though they were active on Instagram, it wasn't where I would have gone to look for a pet — my daughter actually brought her to my attention. 
Volunteering is a great way to get your name known in any realm — from pets to accounting. It's a great resume builder and also gets you involved in a community in which you may want to play a larger role. Be aware though that if you don't set limits and boundaries, your volunteer work could overtake your life and pull you away from paying markets and if you make a living at pet blogging, you understand the need to balance paying gigs with volunteer work. 
Look around and see if there are any volunteer opportunities in an area of pets in which you're interested… a breed specific rescue, helping host a fundraiser, getting involved in walk-athons to raise money. The opportunities are almost endless.