by: Carol Bryant
Did you ever get writer's block? Raise a paw if writer's block has sometime, somewhere along life's blogging path, affected you. (I'd have both hands raised, but I need to write this).
Have you heard of EFT, Emotional Freedom Techniques? The Dr. Oz show will feature EFT on Monday, April 15, so we know this is a very "paw-pular" topic. BlogPaws prides itself in staying current and bringing  bloggers and microbloggers the very best education at our conferences (and year-round).
This year at the BlogPaws 2013 Conference, we'll have Susanne Peach as one of our Lunch Pack Leaders. Susanne plans to share EFT during her session. What's it all about. We've got the scoop….

This year at the 2013 conference, we're launching a little something new called BlogPaws Lunch Pack Leaders.
BlogPaws has a full schedule with quality speakers and topics, but we
know there is always more talk about and more to learn. Our Lunch Pack
Leaders have compelling topics for conversation that will be held over lunch on either Friday or Saturday.
You will have the chance to sign up at the conference starting Friday morning at the registration desk. There will be limited seating for these round table discussion lead by our experts in these tabs.
Susanne is a resident of Boulder, Colorado, and this will be her first time at BlogPaws. During her lunch pack session, Susanne will share "Knocking down Blocks to Writing instantly with
EFT, Emotional Freedom Techniques."
Susanne Peach is an AAMET Certified EFT Trainer, teaching EFT (Emotional
Freedom Technique) for over 10 years.  She's also an advanced EFT
practitioner in Boulder, CO, and has also worked with a Fortune 500 CEO,
an Olympic athlete, and professional actors.  Her practice involves
facilitating change for people and animals, creating healthier, happier
more balanced lives. Susanne leads audiences in fun exercises that
create instant results and produce life-long tools.  She's used EFT on
animals to help them overcome physical, emotional and behavioral
challenges.  Her radio show, Animaleze, is dedicated to helping animals
and their people.  She is honored to have two amazing dogs in her
family, Guinness and Samson, keeping her grounded and on her toes at the
same time.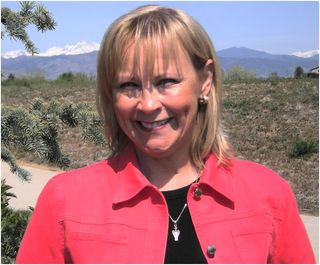 We asked Susanne what she plans to share with our attendees.
"I would like to introduce people to EFT.
 It is a simple, yet effective technique, that one can use on oneself to
overcome blocks to writing.  EFT has successfully been used on fears,
anger, grief, anxiety, depression,  PTSD,  addictions, weight loss,
 learning disorders, and physical issues of all shapes and sizes,
including cancer," she says. 
"We all know what we "should" do to achieve
our goals, yet for many of us we are stuck in the past, stuck in the events,
experiences, traumas and comments to us from the past.  EFT works on an
energetic level.  That means we go to the block within the energetic self
that is keeping us in old patterns.  And then use our fingers for a
 gentle "tapping" on set points on the body while using specific
language to clear those blocks.   In fact, this is such an incredible
technique that I've even used it on animals to overcome fears of thunderstorms,
vet visits, car rides, separation anxiety, aggression, and many physical
diseases.  Dr. Oz said that Energy Medicine will be the medicine of the
future."
What Susanne Hopes People Will Gain From Her Chat
"To know that the ability to achieve our
goals is within each and every one of us.  And that things such as writing
a blog or putting ourselves "out there" for the world to see/read
through our blogs does not have to be a scary thing.  That we no longer
have to live as victims of our past.  We each have the ability, with the
right tools such as EFT, to create the life we've dreamed of, and create it
now.  I will take people through a  tapping exercise to get them
started on overcoming any blocks they have to writing or even taking their
business to the next level."
So Does Susanne Have Pets?
"Yes! Guinness, a 12 year old Australian
shepherd-Gordon setter mix who is my loyal shadow.  And Samson, a
1-year-old golden retriever who hopes to follow in the footsteps of his
brother, Major, who's passed, and also become a registered therapy dog.
 (And proudly I can say they are both bi-lingual–understanding commands
in English and German. )"
Just For Fun – Here's a Cool Fact About Susanne
"I'm an adrenaline junkie.  My all time
favorite sport is scuba diving and especially diving amongst sharks."
Websites She Visits Daily
www.Elephants.com
 - To watch the webcams of the elephants at the Elephant Sanctuary in
Tennessee.
SnotfaceandTwiggy.com
 (Susanne knows Twiggy personally and reports she is quite in love with her.)
Follow Susanne here:

Ready to take your blog to the next level or learn how to
get started? BlogPaws 2013 Registration is in full swing. Join us May 16-18 in
Tyson's Corner, Virginia. BlogPaws is a pet-friendly 3-day life changing
conference! Register for BlogPaws 2013 here.
P.S. You will have access to a variety of "tracks,"
including 101 for Beginners, 201 for Intermediate level, and even a Pro Level
for seasoned bloggers who want to take their blogging and goals to the next
level. An exclusive 4th track will cover a variety of topics from
Law to Lifestyle to Be the Change for Animals