Post by Blog Manager Robbi Hess
Aaahhhh that "new puppy smell." Along with that comes the almost constant trips outside to teach them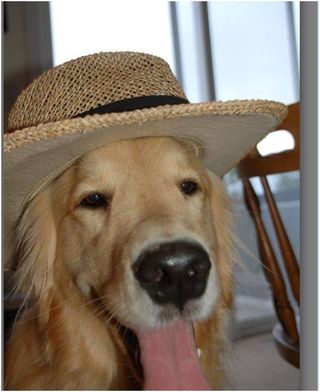 that potty is to be done in the grass, not on the carpet. Then you may have to deal with, "did you chew another pair of shoes?" or, "Don't scratch the furniture when the scratching post is right there!" Along with the joys of owning a puppy, kitten or other young pet of any breed comes the task of making her a well-mannered member of the family. 
If you're craving the love and affection of a pet but aren't certain you're up to "raising a child" again, adopting an older pet may be the answer. Also, when you consider that shelters are overflowing with older pets in need of loving homes, it makes even more sense. 
Here are seven top reasons to adopt an older/senior pet:
In many cases, older pets are more well-mannered than their younger counterparts. They have likely been a member of a family before and understand what it takes to be a great family pet. 
When you adopt an older pet you know just how big he's going to get. Remember the time you adopted a tiny dog that "grew into its paws" and ended up weighing close to 75 pounds when you were assured that both parents were only 20? Your senior pet has reached her full size — no surprises! 
If you adopt an older pet that has some behavior issues, they are typically easier to train than a younger dog. Puppies are easily distracted, whereas an older dog has the ability to stay with a task and learns easily. 
Even if you are in search of a specific breed of cat or dog, chances are you can find a rescue group that has many of them available and in search of a loving home. 
If you have an elderly friend or relative in search of a pet, an older pet is likely the best way to go. An older pet will typically be calmer and will require fewer trips out to visit Mother Nature because he will usually indicate when he has to go out, unlike puppies whose usual sign of needing to relieve himself is getting into the squat position! 
Most senior pets aren't wild bundles of energy. If you're looking for a companion to take leisurely strolls with or cuddle up on the couch on a weekend, a senior pet is a great idea. 
It's uncanny, but people who have adopted a senior pet say they feel the pet understood their new owner was his savior and a bond between the two forms quickly. The devotion shown by an older pet to his new owner and the attention the pet pays is heartwarming. 
BlogPaws is also proud to partner with our BlogPaws Community Members who are offering prizes during the month of August as we continue to Celebrate Senior Pets. Community members who have donated include: 
Mark your calendar: #BlogPawsChat on
Tuesday, August 27th from 8–10 PM EDT where Natural
Balance will be our guest to talk about honoring Military working dogs once
they retire. We'll chat about the Military
Working Dog Teams Monument that will be dedicated at Lackland Air Force
Base in San Antonio, Texas in October 2013. Plus, Natural Balance will give away
some Tillman treats during the chat!