by: Carol Bryant
Wendy
Diamond, whom many BlogPaws Conference attendees will recall was our emcee for
the Nose-to-Nose Awards 2012, made headlines with her "DOGGUPY Union Square" campaign which took place in the heart of New York City on October 2nd.
Along
with Olympic fencer, Tim Morehouse, and over 50 dogs with their pet parents,
the group came together to call attention to the end of "inferior kibble that
they've been fed for too long."

The
FDA's regulation
of pet food is outlined in their statement on the FDA website, which is
muddied at best. Diamond and her pack came together to call attention to the
demand for nutritious, real whole food and BlogPaws has some exclusive coverage
and pictures of the event.Wendy has been speaking out for this cause for a long time.
Attendees were invited to "rise up, bring your dog, bark about it, and join
Wendy and her new adopted dog, Baby Hope, on October 2nd at the
corner of New York City's Union Square, on 17th Street. Attendees learned about
nutritious ways to benefit their pet, received free samples, and took pictures
while "liberating the bowl." Wendy and Baby Hope were present in her belated dog, Lucky's, honor.
Internationally renowned pet fashion designer, Anthony Rubio, was in attendance and designed the beautiful outfit worn by Baby Hope Diamond. Rubio can be seen in the images below taking part in the "DOGGUPY Union Square" campaign. He is involved with many animal-related charities.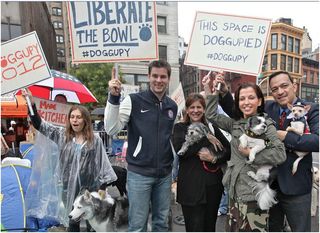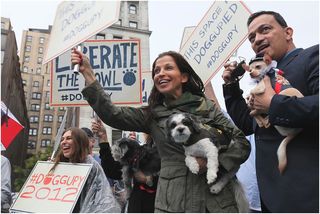 Animal cancer is a serious problem; one in three dogs will die from cancer
in their lifetime. More and more researchers and vets are realizing that a
direct link to unhealthy pet food filled with by-products and toxic ingredients
is adding to the rise in animal cancer and other animal diseases. Pet food made
with high-quality, all natural ingredients, active with vitamins and nutrients
is highly important to maintaining an animal's good health and instrumental
when preventing canine cancer. On this we can agree.
This is a cause near and dear to the hearts of many BlogPaws' community
members (and staff), as cancer has affected the lives of so many of our
precious pet family members.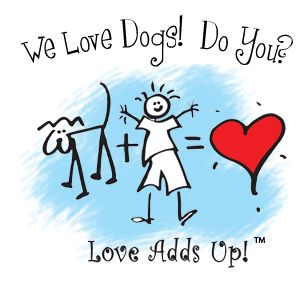 BlogPaws' member and attendee to several of our conferences, Kelly K, founded
Wishcuit with the goal of combating canine cancer. Kelly says, "We raise and
donate funds for canine cancer research and treatment, and organizations that
provide financial assistance to families who are unable to afford oncology
treatment for their pets that has been diagnosed with cancer. We also support
no-kill shelters and provide user-selectable options for donations."
The BlogPaws Be the Change for Pets movement unites pet lovers worldwide in causes like this and we'd love for you to be a part of our team.
For more information about Wendy Diamond, check out Animal Fair's website.
Visit Wishcuit for more on how you can help in the canine cancer fight.
Photos courtesy Merrick.
Have you had a pet affected by cancer???