By: Carol Bryant, BlogPaws' PR Manager
BlogPaws is on television this weekend! As the PR Manager
for BlogPaws, one of the joys is sharing new pet products to hit the
marketplace. Pet Talk with Lauren Collier is on News12
Connecticut, airing several times this upcoming weekend. We'll also have a
YouTube link of the appearance in a few weeks. For now, if you don't get the
opportunity to see the show air several times this weekend, check out what we have below.
Bonus: The show now airs on channel 612 in Connecticut and
surrounding markets so once the show airs, it will be there for a month or so,
so it will be seen over and over: BlogPaws is growing by leaps, paws, and bounds.
So what did we talk about and share? We've got exclusive behind-the-scenes
footage AND the low down on the products that will be shown on air. Here we go:

Did you know that 50 percent of dogs in the U.S. are
overweight or obese? With winter coming, more dogs are indoors and this is
perfect for indoor exercise and stormy rainy days. The
Minipacer dog treadmill is built from
carbon steel and can support dogs up to 55lbs. BlogPaws donated the treadmill
to Abandoned Angels Cocker Spaniel Rescue of NY, also, and here's a picture
from that moment: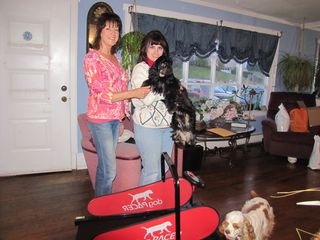 Founded in 2006
and Based in the beautiful hills of the Berkshires in Western, MA, Whole Life Pet makes healthy treats in
the United States for dogs and cats. Freeze-dried treats for our furry friends,
they hand pick USA farmers, ranchers and fisherman all from the human food
industry. Available in a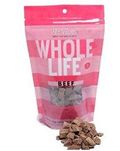 variety of flavors and can stay fresh up to one year
if sealed properly in their air-tight package.
Ensure your pet never goes out of range with the The Tagg pet tracking system. It uses
advanced GPS and wireless technology, powered by Qualcomm, the world leader in
mobile technologies. It's the same technology that guides you when you're
driving to a specific destination, to provide you with your pet's location at
any time.
Tom
Bihn has been designing and making bags since 1972. Travel bags, laptop bags,
and backpacks are in the mix. Now they have the Tom Bihn Citizen Canine. It is primarily a
treat bag (for training

treats/rewards/bribes) with a poop-bag dispenser built
in. The treat compartment makes up the top two-thirds of the bag; the top edge
of the pouch is stiffened to remain open for easy access, but it closes with a
drawstring so the treats stay inside otherwise. The treat portion is also big
enough to fit a tennis or similar size ball (or toy), in case your buddy is
more inspired by fetch than by food.
The Walk
In Sync Humane Dog Walking and Training System were
developed by veteran trainer Alecia Evans and it is revolutionizing the way we
walk people dogs and train our puppies. In just 3 Easy Steps, the pulling
habit is safely and humanely eliminated.


Clean
up time! The Bissell Total Floors Pet
vacuum is a versatile tool for any home with pets. This vacuum has a convenient
Edge Cleaning Port to hold the crevice tool for you and clean along edges more
easily. Powerful suction is diverted to the edge of the vacuum to clean along
baseboards and furniture where pet hair, dirt and debris tend to accumulate. The TurboEraser Tool is great for
picking up pet hair on furniture and stairs. The Pet Hair Fabric Tool also
picks up pet hair but is designed for such surfaces as drapes or
bedspreads—those spots where pet hair accumulates but you can't easily reach. Many more features, too!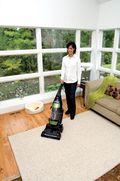 Delectable
Delights Stews from Natural Balance added a yummy variety to the mix of
products we showcased. Hand crafted in small
batches, ingredients retain their shape, color, and texture for dogs


and cats.  If you were
at BlogPaws 2012, you probably met or saw Norman the Skateboarding Dog and Norman the Scooter Dog from Natural Balance in action!
For
every bag of high quality premium BOGO Bowl
customers purchase, the exact same bag, pound for pound, is donated to a local
shelter or rescue 501(c)3 in your area. Shipping is included on all orders and
Dog Food Advisor awarded BOGO Bowl a 4-star "highly recommended" rating
recently. No artificial flavors or by-products and all natural ingredients.
Join the Pet Talk Facebook page for more fun and check out these fun
behind-the-scenes exclusive images. Thanks to the fab Lauren Collier. We look forward to seeing this show get syndicated someday soon!