Guest post by Blog Manager Robbi Hess
Chances are, when you go to read a blog you don't
really know anything about the blogger other than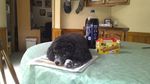 what you read in a bio or on
his or her website, righ? How do you know they're a credible source? More
importantly, how can you be seen as a credible pet blogging source?
There are
several ways that I've uncovered and here are my thoughts on building your pet
cred:
Be genuine and passionate. If you're not a cat lover, don't blog about them as if
you are. If you have a dog that simply is not trained (ahem, like Henrietta,
the Diva Poodle is NOT) don't blog about your authority with having a
well-trained pet. Believe me, when your beloved furry friend hops up on the
dinner table and stares at your plate (much to the chagrin of your other
tablemates) your lack of having trained her will be evident. Be who you are. If
you're a natural born comedian let that shine through in your blog posts. Your writing voice will shine through in your blog posts.
Just the facts ma'am. If you're talking about trends, or dollars
spent on pet adoptions, or how much the average family spends on pet toys, back
your facts up with figures. You don't have to know it all, but you should be
able to point to a credible source and credit him or her. You don't have to be
the expert in everything, but if you're not don't be afraid to pull in the
talents and skills and expertise of others. Believe me, having an expert guest
posting or quoted on your blog amps up your pet cred!
You're not selling used cars. Sounding like a salesperson or
selling, selling, selling in your blog posts will turn your readers off and
they will high tail it to a site from which they can gain the knowledge they
seek without being forced to buy something. Hey, if you're a pet care provider
or a social media guru of course you have a product to sell, but let the reader
get to know you… once they know, like and trust you, they will think of you
when they're in the market to buy.
A great way to build
pet blogging credibility is to become the go-to source for your readers. Have
you heard of a problem for which you have a solution? Blog about it. Spread the
word. You don't have to solve every problem but if your readers know they can
rely on you for great information, you will become to go-to person for their
pet questions.
What steps can you
take to build your pet credibility?