Guest post by Jessica Rae
I attended the BlogPaws conference for the first time this year. In the weeks leading up to BlogPaws I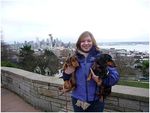 was so excited I could hardly contain myself. I imagined meeting and talking with hundreds of my bloggy friends. I imagined being focused and learning loads and loads of things from the breakout sessions. I imagined having a carefree, fun time.
Well, that isn't exactly how it went. I made mistakes and learned a lot of lessons.
1)    Think twice before you bring your pet
I insisted on bringing Chester and Gretel. Looking back on my experience, I might have made a different choice.

Consider your pet's personality carefully. Chester has a high prey drive and Gretel can be anxious around strange people and dogs. They are good dogs but Chester did not do well around the ferrets or cats and Gretel pulled on the leash and barked at a lot. I spent more time managing their personalities and being distracted than focusing on the content of the sessions or meeting people.
If your pet would not sit quietly by your side surrounded by 100 monkeys then you might want to consider other options:
Bring your dog but leave them in daycare. The staff was awesome.
Bring a flat version of your pet. I guarantee that the flat pet people had more fun than I did – flash mobbing and getting the advantage of begin recognized by their pet without the stress.
Wear a T-shirt printed with your logo so people will recognize you without your pet.
 2)    Pack light
You will have the opportunity to pick up a lot of treats, toys and products to try. That is part of the reason to go to the conference. I found out quickly that carrying my heavy personal bag with the kitchen sink in it AND two totally full shopping bags of swag made my arms hurt. It was a bummer to have to lug around. Bring only the MINIMUM of what you need. They give you plenty of human and pet food, snacks and water.
DO bring a notebook and two pens or pencils, your cell phone charger, a light sweater in case you get chilly and a camera (cell phone and point and shoot should be sufficient).
These two tips deal with your personal comfort. Please feel free to elaborate on either of these on the comments section below.
Come back to read Part II for more tips on meeting other bloggers, creating relationships with vendors and bringing home products to review.
Jessica lives in Seattle with her two miniature Dachshunds Chester and Gretel. She is a Social Media Marketer, avid adventurer, traveler and author of YouDidWhatWithYourWeiner.com. Like them on Facebook: https://www.facebook.com/YouDidWhatWithYourWeiner Follow them on Twitter: https://twitter.com/#!/Adventureweiner