BlogPaws is proud to announce its second keynote speaker, Clara
Shih, who will address the predicted sellout pet bloggers conference, May
16-18, 2013 in Tyson's Corner, Virginia, with her message of social media
dynamics.
Clara Shih is the CEO and Founder of Hearsay Social and a
pioneer in social media. In 2007, Clara developed the first social business
application, called Faceforce, and subsequently authored the New York
Times-featured bestseller, The Facebook Era: Tapping
Online Social Networks to Market, Sell and Innovate, now used as a
marketing textbook at Harvard Business School. Keep reading…..

Shih has been
named one of FORTUNE's Most Powerful Women Entrepreneurs, Fast Company's Most
Influential People in Technology, and one of BusinessWeek's
Top Young Entrepreneurs. She is on the Starbucks Board of Directors and served
in a variety of technical, product, and marketing roles at Google, Microsoft,
and Salesforce.com. With BS and MS degrees from Stanford University and an MS
from Oxford, Shih also serves as an advisor for Good Karma (formerly Camp
Amelia), a non-profit she founded which develops and funds technology education
programs, curriculum, and software for developing countries in Africa and the
Middle East.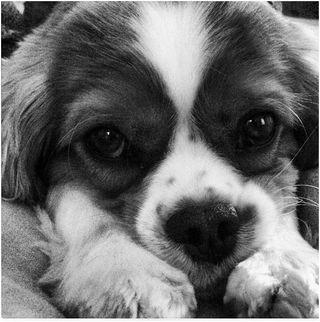 Meet Henry, Shih's "unofficial "company mascot
"We are seeing a seismic shift in communication
—spanning everything from personal relationships to business to consumer," Shih
said. "For many, the relationship with their pets is a significant part of
their lives; in San Francisco, more people have dogs than have children (we
even allow dogs in our offices).  Social media is a wonderful way to find
more information and connect with others who have pets."
A pioneer in the
technology industry, as an engineer, celebrated author, thought leader and
successful technology entrepreneur, Clara Shih is a celebrated visionary in the
ever-evolving world of social media. She is the Chief Executive Officer of
Hearsay Social, a rapidly growing Silicon Valley technology company whose
leading social marketing platform is used by large global brands including Farmers
Insurance and 24 Hour Fitness to manage their corporate and local Facebook,
Twitter, LinkedIn, and Google+ Pages.
Shih is godmother to her friend's cat, Remy, a domestic shorthaired cutie
In May of 2013,
BlogPaws will host its fifth annual conference in Tyson's Corner, Virginia,
located on the Washington D.C. border. BlogPaws is a pet-friendly event that
has made its mark in Ohio, Colorado, Virginia, and Utah thus far. Registration
is open and the founders expect another record crowd for the event: May 16-18,
2013.
BlogPaws was one of the first companies to begin promoting pet health and
welfare via social media, and the first to start a conference for pet bloggers.
BlogPaws' online community site attracts thousands of pet bloggers, pet
enthusiasts, and pet people — on Twitter, Facebook, LinkedIn, Tumblr, Squidoo
and Pinterest.  As the go-to presence for reaching pet parents and brands
eager to connect, BlogPaws is a trusted industry resource for partnering on
projects and campaigns using today's powerful social media tools. Follow our speaker page for the 2013 BlogPaws conference, too.
Registration for BlogPaws is open – visit http://registration.blogpaws.com.