BlogPaws is happy to announce the appearance of our PR Manager and writer/blogger, Carol Bryant, who taped a segment of Pet Talk with Lauren Collier on News12 Connecticut, airing several times this upcoming weekend. Carol dished BlogPaws and a whole slew of hot new pet products to the marketplace that you can also expect to find at BlogPaws 2012 Conference in Salt Lake City!
Carol is no stranger to tv, print, and radio, and many of you many recognize her from her apperances on Pet Talk and from BlogPaws attendance (her fourth coming up!).  Tune in this weekend to watch Carol with her dog, Dexter, on tv and check out these "haute" products for cool dogs and frisky felines. Say hello to these brands in paw-son at BlogPaws 2012, too!

The show airs on News12CT on Saturday, June 16 at 9:03 am, 12:33 pm, and 4:03 pm; then Sunday, June 17, at 4:33 am, 9:03 am, and 3:03 pm. On Monday, June 18, the show will air at 1:33 am. Theme is "Father's Day Gifts for Dog and Cat Dads." We'll have a complete YouTube link of the event in a few weeks, but meantime, here is the down low on what the ladies dished on tv:
From PetSmart, we have so many things hitting store shelves. Rocker and lead man from Poison, Bret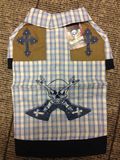 Michaels – and many know from the Celebrity Apprentice – has released a Pets Rock collection. Pets can channel their inner rock star with these edgy, fun, and unique products from the line. From the Pets Rock Western Tee (gotta love the skeleton and two guitars motif) to the Pets Rock Cuddler Bed, this line is glam 80s brought to 2012. Get more info here: Bret Michaels Pets Rock : will have more info on 6/18 so stop back!
Toys R Us has an exclusive line in PetSmart stores. These products are featured on the new PetSmart Toy Chest aisle where pet parents can select toys for each stage or enrichment goal in an easy, fun way. Multisensory toys for multifaceted pets. Get more info here: Toys R Us at PetSmart
The Jill Rappaport (of The Today show)  Rescued Me collection of leashes and collars are also featured. This is a unique line designed specifically to promote the adoption of dogs and cats. Each color has a different rescue or adoption message printed on the leash and collar that identifies how you got your pet. It's not just a statement for the cause, but also a statement of fashion  for your pretty pooch, with bright colors that pop. It's also great for safety. Two lines of reflective thread on each side run down the length of the leash for greater visibility during twilight or night time activities with your best friend. What better way to let the world know that you don't just "talk the talk," but that you "walk the walk" every day? Made in the USA. Quotes on leashes include ""HEART MELTER FROM A SHELTER"  and "I'M A POUND HOUND" and not to forget the kitties, "SMITTEN WITH A KITTEN".  More about Jill

with our very own Chloe DiVita here.
BlogPaws loves ALL pets, and that includes cats. Martha Stewart Pets is exclusive to PetSmart and focused on stylish, innovative products. The collection was expanded late last year to include cat items.
Watch for the Martha Stewart Pets Double Cat Feeder. This double feeder is efficient, modern and stylish. Includes air-tight lids for easy travel with your pet; a PetSmart exclusive. More here at Martha Stewart Pets at PetSmart.

Let's go litter and check out the Unconditional Natural Pine Cat Litter. Unconditional Natural Pine Cat Litter offers a new and better option to the growing number of customers interested in chemical-free litter. Made from naturally sourced odor-controlling pine, Unconditional offers traditional pine pellets and an all-new, proprietary Pine Cobble formulation. Each provides all the benefits of pine litter with a choice of two low-dust, low-tracking textures to match their cat's preferences. Unconditional's new cobble substrate reduces transition time and potential for "new litter" rejection. A consumer money-back guarantee makes first time trial and switching to either formula simple and risk free.     It can be purchased at Stop 'n Shop. They carry 12lb and 20lb Cobble. Price for 12lb is $9.99 and the price for the 20lb bag is $14.99. Meow to Unconditional Natural Pine Cat
Litter here.
Canine and Companion First Aid Kit from Doodie Pack. The Doodie Pack is a lightweight, durable, saddle bag-like back pack for dogs to carry organized essentials while out on a walk. In 3 sizes and 8 available colors, Doodie Pack fits dogs 8-180 pounds. Each pack features a perimeter of reflective safety tape and can be customized with a monogram or logo. Doodie Pack is proud to say, "We are Made in America". So the inventor, Kristin Elliott, now offers a Canine and Companion first aid kit.

Get rid of odors with Zero Odor. Zero Odor seeks out and bonds with odor molecules of just about every kind, changing them into molecules that can no longer cause odor. Immediately after spraying, Zero Odor leaves behind a "Tracer Scent" that helps you know where Zero Odor has been sprayed. A short time after Zero Odor is sprayed the Tracer Scent will disappear. It is not an enzyme.  Full refund if not happy for up to 30 days. Cats may not use their litter box if soiled, and this helps with positive behavioral changes with cats. Non toxic and biodegradable. Can spray on soiled cat litter.  Never spray onto people or pets. Zero Odor info

here.
We round with our friends from Halo Pets and their new Halo Small Breed Dog Spot's Stew Turkey, Duck & Pheasant Formula. Dexter is addicted to the Liv-a-Little Healthsome dog biscuits with real chicken so I am glad our local pet supply stores carry them. Yum! 
Join the Pet Talk Facebook page for more fun and check out these fun behind-the-scenes exclusive images.