Guest post by Doreen Disbro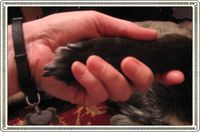 I will be so very honored to be among many of my peers who work tirelessly to bring issues surrounding animal welfare to the forefront next month at the BlogPaws Conference. In addition to BlogPaws being a great resource for pet bloggers and brands, they are also deeply passionate about the welfare of animals. Did you know that a portion of the BlogPaws Conference registration money and Sponsorship dollars will go to rescues and shelters? Registered users have an opportunity to nominate a shelter or rescue of their choice and one will be randomly selected at the conference.

BlogPaws has an incredible community and I proudly wear the member badge of honor. We all post reviews, tips, contests, cute pictures and videos, but we also band together when an urgent plea is brought to our attention. Whether we are joining forces to raise money and awareness for the 'Paws for Japan' campaign, or when we are blogging about how we make a difference in our communities and even when we are featuring 'Less Adoptable Pets', we drop everything to help. It's pretty apparent that no matter where we live, if you are a dog, cat, horse, bunny, bird or ferret person, we stand united with a very large voice when we receive a call to action from the BlogPaws co-founders.
It's important for me to point out the privilege we have of being members of the BlogPaws Community. I would not be where I am today without BlogPaws as the first conference I attended. It truly changed my life furever. I was doing pretty well on my own but the conference gave me more insight, connections, tools and the best of all: support. You can imagine my excitement when the BlogPaws Community was launched recently. As a community we can continue to learn from each other and we can continue to grow together. We can continue to build a foundation and Be the Change.
If you haven't already signed up to be a member of the BlogPaws Community, it's never too late and it's free to sign up. I hope to see you all at BlogPaws.
Doreen has been involved in animal rescue for more than 20 years, attending rallies for the welfare of animals, including protesting at local pet stores monthly that sell puppies and at the Indiana State House. Last year she attended a 2-day auction in Mexico, Missouri where one of the "Dirty Dozen" was closing its doors and auctioning off over 800 dogs to the highest bidder. Doreen, along with countless rescues and animal welfare advocates, helped rescue more than 300 dogs that weekend. This rescue effort launched just days before Missouri voters were to vote on Prop B, which would have put restrictions on breeding. A tearful and emotional video she made the day she returned continues to bring emails of support and attention.