BlogPaws, the
original social media network and conference designed by and for pet bloggers,
is pleased to announce winners of the BlogPaws Best of 2013 Awards from this
year's Global Pet Expo, held February 20-22, 2013  at the Orange County Convention Center in Orlando, Florida.
The BlogPaws Global Pet Expo 2013 Award Winners Include: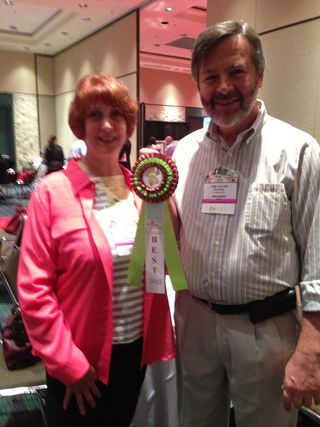 Best Aquatic
Product: No Clean Aquarium by No
Clean
Best Pet Bed: Stadium
Beds by Game Day Ventures
Best Bird Product: Senior Bird Nutrition by Labeber Cares
Best Boutique
Product: Dog Snorz
Pillowcases by Dog Snorz
Best Cat Product: Hanging Cat Condo by K & H Pet Products
Best Dog Product:
Line of Dog Travel Products by K & H
Pet Products
Best Conservation
Product: Hermit Crab Glass
Shells by GlassShell
Best Pet Enrichment
Toy: Dog and Cat Toys by Nina
Ottosson 
Best Functional
Product: Gobble Stopper by Loving
Pets
Best Natural Pet
Product: Smoothie Dog Treats by Ubuntu
Pet
Best Odor
Eliminator: Zero Odor by Zero Odor Pet
Best Overall New Pet Product: Pet Cam
by Samsung
Best Leader in the
Pet Industry: Bob Vetere,
President & CEO, APPA
Best Small Animal
Product: Tronk Ham by Aikiou
Best Technology
Product: Rechargeable LED light
by Floppy Ears Design
Best Pet Travel
Product: Carriers Version 1, 2, and 3 by
Wacky Paws USA
Best #BlogPawty
Treat: Meowtini Treats by Omega Paw
Best Treat
Presentation: Puptato Chips by Puppy
Cakes
Best Toy Product: Urban Stick by Bionic Play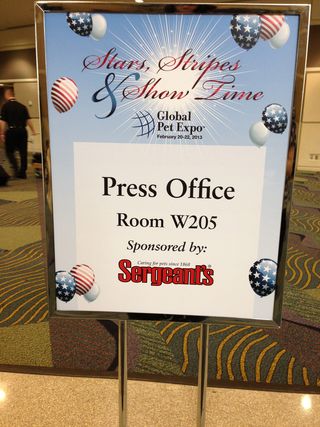 Best of Awards from
BlogPaws Global Pet Expo Team:
Chloe's Best in
Show: Freeze Dried DogFish by Whole Life
Pets
Carol's Best in
Show: CarDek Cargo Space by PetDek
Felissa's Best in
Show: Pet Food Bowl by Simply Fido
Tom's Best in Show: Top Dog Inn Beerhounds
by The Expression Factory
Yvonne's Best in
Show: Dog 4D Bookmarks by Dimension 9
Caroline's Best in
Show:  Poogo Stick by Poogo Stick
Media Assets
Media
images are available on the BlogPaws Pinterest Page
Global Pet Expo 2013 board.
Tout
videos of each award can be found on BlogPaws'
Tout page.
BlogPaws attended
Global Pet Expo 2013 as the Official social media and blogging experts. The
show featured 964 pet product exhibitors and almost 5,300 buyers covering floor
space the size of 14 football fields. BlogPaws awarded each winner with an award and video capture of each presentation, available on the BlogPaws Tout page.
BlogPaws
is a pet-friendly event that has made its mark in Ohio, Colorado, Virginia, and
Utah. The 2013 BlogPaws conference takes place May 16-18. 2013 in Tyson's
Corner, Virginia. http://www.blogpawsconference.com
For program details and
an up-to-date list of speakers, visit http://blogpawsconference.com.