Post by Blog Manager Robbi Hess
Thanksgiving has passed and you're likely still feasting on leftovers, right? As pet lovers, we wonder…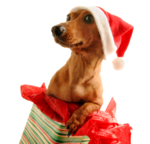 were you involved in the Black Friday shopping craze? Will you take advantage of Cyber Monday deals? If so, did you spend much of your shopping energies buying gifts and treats for your four-legged or feathered family members? 
This week, with holiday shopping in full swing, we'd love to know: 
Do you buy gifts for your pet? 
Do you plan for those purchases or are they spur-of-the-moment purchases?
Do you wrap the gifts? 

'll start. I do buy gifts for Henrietta, the Diva Poodle and I put thought into them. For example, I know she needs a new winter coat and a new pair of pajamas (yes, she wears pajamas!) and I will also pick up some of the snacks she loves. For the kitties, I will purchase new cat nip filled toys and another section for their kitty condo. 
If you like free gifts (and who doesn't!) hop over to My Divas Dish and enter to win free goodies from PetFoodDirect..