Guest post by Blog Manager Robbi Hess
Chances are you've heard of article marketing but you may not be quite certain what it is or how it even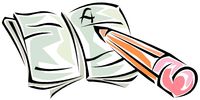 differs from writing a blog post for your website. While there are similarities there are differences as well. Article marketing, in a nutshell, is you writing about what you know in the areas in which you have expertise. Once you've written an article in your area of expertise – whether it's social media, accounting or dog grooming, you submit your articles to online directory sources. The articles are then syndicated and can be reprinted by other sites; your reach will grow by leaps and bounds.
How will article marketing benefit your business?
Writing and submitting articles is a free way to generate traffic to your website. Each time someone uses one of your articles your contact information and byline must remain with your article. This means every time your article is reprinted you are receiving exposure to additional readers without you having to lift a finger! The more people who see your article the more opportunity you have for them to click through to your website or social media pages. A well-written article expands your reach through online word-of-mouth re-publication.
What's the most important part of your article?
Actually there are two important parts, the first being the article itself; it must be well written and grammar and error-free. Don't damage your credibility with poorly written text. The second most important part of your article is your author's bio. You're not "allowed" by the article submission sites to blatantly promote your company but in your author bio box you can say who you are, what you do, and why you're the expert in the particular field in which you're writing. You can also have a link in your bio back to your website. Look at examples of other author bios on the sites to which you're submitting articles.
Where to submit?
Before you decide which site to submit to, you will want to check out the articles that are already published there to see the quality of the work. Some of the sites, such as Ezines.com and ArticlesBase.com offer light editing before your work is published.
How to get started?
To reap the most benefits from article marketing here are three items to think about:
 Make a commitment to wrote at least one new article per week. The more you write, the more easily you will be found and the more chance your articles will be found and republished.
Market yourself. Once you write an article account it on your website or social media pages. Just as marketing is vital to your business, it is also a crucial element to article writing success.
Build your expertise and reach. Every time you submit an article that is published, the more you show your expertise. You will become known as the go-to person in your particular area of expertise.
If you're looking for a free way to market your business and expand your reach, article marketing is a great way to do so!