Post by Blog Manager Robbi Hess
There are two ways to look at this story: With anger at the individuals who would drop off a three-pound

deaf, blind dog who was suffering cancerous tumors in a park and leave her to fend for herself; or with a grateful heart that Rebecca Braglio saw the dog, and despite her initial condition, her blindness and deafness and her cancer opened her heart and home and is providing Astrid with the chance at a better life for whatever time she has left. Personally, I am going with the second scenario.
How it started
Rebecca has only just recently had to put down her other
pet, Finn, when Astrid came into her life. When I asked her if it was hard to take in a foster pet who doesn't
have much time left, Rebecca said, "Yes, but at the same time I think I will do better with a gradual loss. With Finn, he was perfectly fine one day then
collapsed and an hour later we had to put him down. I had no time to prepare.
One day he was with me and then he was gone."
She said that even though she may have time to prepare, it
will not be easier. "It will be devastating when she dies, but I can prepare
myself along the way. I know what to expect." As a way to prepare herself,
Rebecca started a Pet Cancer Support Group through Pet360 where she works as
the Community Engagement Manager. Rebecca envisions the group as a place where
she can talk with pet experts and other pet owners who are dealing with cancer
issues with their pets. "I didn't really see a group that fit this need and now
that I have Astrid I see the importance of it."
Rebecca said she wasn't even certain she was ready to bring
another dog into her home with the loss of Finn so fresh in her mind but a
friend contacted her about a dog she'd been fostering (Astrid) who was in
danger of being euthanized. Rebecca's friend decided to offer Astrid hospice
care.
Astrid's saga began when she was discovered wandering around a large park
in Pennsylvania, "when she was found she was so matted the vets didn't even
realize she was blind. They also had to shave her down because she was so
matted." The vets believe Astrid is about 15 years old and when she was found
she was covered in the mammary tumors. "After I talked to my friend and saw a
picture of Astrid I couldn't get her out of my mind. I wasn't sure I was ready
to bring another dog into the family, especially one that looked so much like
Finn," Rebecca shared. She laughed when she said that "Astrid is so much easier
than Finn – the complete opposite of him attitude-wise." Rebecca said Finn had
some aggression issues and that Astrid is easy going. "She is the easiest dog I
have ever had!"
The University of Pennsylvania has a
mammary tumor program in its vet school and Astrid was admitted. She received a free spaying and medical
exams. The tumors were removed. "There were about 20 of them," Rebecca said.

Astrid's biopsy results from the mammary tumors came back and Rebecca said that the University was certain they were going to be benign because they were "free floating tumors" but unfortunately they are malignant. "It's a type of cancer that the University has never seen in a dog before – Comodo Carcinoma." Rebecca said unfortunately it's an aggressive form of cancer once it infiltrates Astrid's lymph nodes. "Thankfully it hasn't spread but when/if it does, she will have less than three months to live."  
Quality of life is the name of the game for Astrid, Rebecca said. "She didn't like being poked and prodded when we went for vet visits so I just can't see putting her through chemo." Astrid will remain in the cancer study at the college, will be rechecked every few months and once she passes Rebecca will donate her body for further study in hopes it will help the researchers come up with a cure for other dogs with that same cancer.
Adapting to a new home
Even though Astrid is blind, Rebecca said it took her about
an hour to "map out the entire apartment" and now she doesn't bump into walls
or furniture. "She does bump into the cats and they aren't that happy about it,
but it all works out."
Rebecca hasn't signed the official adoption papers yet for
Astrid but plans to soon. "We're waiting for the official paperwork."
Why does she do it?
When I asked Rebecca why she, or how she, could open her
heart to a senior dog especially one that is so ill she said, "I love knowing
that the comfort I am giving right now will make up for what happened to her in
the past. I want to give Astrid a great quality end of life and give her a
loving home for whatever time she has left."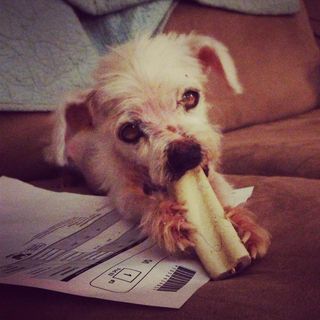 When asked about Astrid's personality, Rebecca said, "She is
not afraid of anything and she is so inquisitive. One time she fell down two
steps and got right back up and tried them again. It blows my mind how fearless
she is."
Coming home from work to a blind, deaf dog is a different
experience too, Rebecca shares, "She can't see me. When I walk in, her nose
starts twitching because she can smell me after that her whole body gets into
the act and she runs around until she finds me. She absolutely loves being
picked up and held."
Astrid's fearless nature was also evident in the face of her
survival in a park before she was found. "It blows my mind that someone could
dump her in a park. How a deaf, blind dog survived for who knows how long out
there is incredible to me."
End of life care
Once the end of Astrid's life is near, Rebecca said she will
be treated only for pain. "She's not under any medical treatments right now. We
are working with an oncologist and are getting some natural supplements to help
her with her pain. My main focus is to comfort her and make sure she's always
in a good mood."
 Rebecca has always
adopted dogs with behavior issues, but never one with medical issues. "I have a
soft spot for senior pets."
Her words of advice
to pet owners who may be faced with a pet with a medical issue, "I know people
have guilt because they can't afford a treatment, but don't dump your defenseless
pet in a park and force her to fend for herself. Find a no-kill shelter that
will take her in."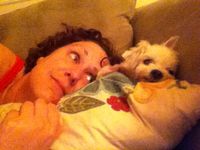 What does Astrid have to look forward to?
"She's a spunky girl and I'm coming up with her Bucket List,"
Rebecca said. "We're going to take her to the beach and let her stand on a surf
board (not in the water) and then maybe a day at a doggy day spa. She's going
to do some fun, crazy stuff."
To see more about Rebecca you can find her at ThePhillyDog.com. To join the Cancer Support Group at Pet360 go here. 
(Writer's note: I know personally, when I look into Henrietta the Diva
Poodle's eyes and see that trust and love I could never imagine leaving her to
fend for herself if she had  medical
issue. I signed up for the long haul – for better or worse. Rebecca opened her
home and heart to a dog who doesn't have much time and it sounds as though
Astrid will receive more love in her final years than she may have been shown
in her lifetime. Thank you, Rebecca!)