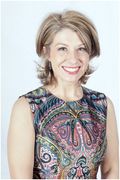 by: Carol Bryant
Monetizing your blog and taking it to the next level of doing so: Those are the key points of Laurie Ruettiman. Laurie is a self-described Social Media Strategist, Human Resources Chick, Formidable Career Blogger, Cat Lady, and Pixie of the Apocalypse. And BlogPaws is honored to have her lead a session at our conference in June in Salt Lake City, Utah.
On Saturday, June 23 at 10:45 MST, Laurie will bring her expertise to BlogPaws in a session designed for anyone who wants to monetize their blog. Hurricanes can't keep Laurie from BlogPaws this year, as one did in Virginia in 2011. Here's what the tidal force that is Laurie will muster up…

"I am here to help people understand what it takes to leave a career behind and become a full-time blogger. We'll talk about changing careers and marketing yourself in a new industry. And we'll also talk honestly about the odds of success," Laurie told BlogPaws. 
Hailing from North Carolina, Laurie has four cats:. Jake (12), Molly (8), Scrubby (6), and Emma (5). They are all happy and adorable she says.
She looks forward to connecting with online friends and helping folks to market themselves in a new industry.
Where can folks learn more about this dynamo? The Cynical Girl:  http://thecynicalgirl.com  Connect also on Twitter at  http://twitter.com/lruettimann.
And we love this, her cat, Scrubby, has a lazy Twitter account: http://twitter.com/misterscrubby
Fun fact: "I get allergy shots for my severe allergies to cats and dogs," she says.
Come to Salt Lake City, meet Laurie, and join in the fabulous 3-day event:  BlogPaws 2012
Catch up on our BlogPaws Speaker Series in the BlogPaws Community.
Come to Salt Lake City, meet Susan and James, and join in the fabulous 3-day event:  BlogPaws 2012
Catch up on our BlogPaws Speaker Series in the BlogPaws Community