Guest post by Caroline Golon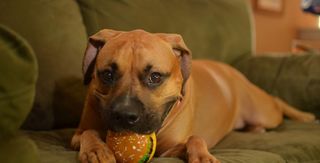 We're so thrilled to announce the two talented bloggers from
the BlogPaws community who were selected to be the first Halo-Freekibble.com Adoption Champions:
Christina Berry, from The Lazy Pit Bull and
Alana Grelyak, from Cat in the Fridge.
We all know bloggers have powerful voices that can do a lot
of good if given the opportunity. And, it's sometimes hard to find
enough volunteer hours to make an impact so Halo created this program to
showcase how a talented blogger and a dedicated shelter together can
make a difference for pets in need!
Through a submission process, two pet bloggers from
the BlogPaws community with a passion for philanthropy were chosen by Halo
and BlogPaws to use their blogging and social media skills to help

promote adoption.
Two shelters were chosen to receive a grant from the
Halo Pet Foundation to help them promote adoption in their communities and
fund the assistance and services of the talented Adoption Champions
bloggers.
Amsterdog Rescue in New York, NY www.amsterdog.org will work with
Christina Berry and Tree House Humane Society in Chicago, IL will
work with Alana Grelyak.
Not only will the two shelters each receive a grant from
the Halo Pet Foundation but they'll also receive 5,000 meals of Halo
Spot's Stew from Freekibble.com.
Throughout the rest of 2013, these bloggers and
shelters will work together to educate the public about adoption,
adoptable pets, and other related issues.
We'll be sharing updates and progress from each of
the teams so that we all can learn and share and showcase what a
difference dedicated social media and blogging can make to a rescue or
shelter.
Look for monthly updates right here on the BlogPaws blog and
on social media!
(photos from the winner's websites)