by: Carol Bryant
More traffic. More readers. More followers. More likes. More dollars.
If any and/or all of the above apply to you, raise a paw. Getting traffic to your blog is pivotal to success, unless of course, you don't mind shouting into an empty tunnel.
There is no crummier feeling, as a blogger, than taking the time to research a topic, pour your time and heart into it, publish the finish product, and wait as the crickets loom. Chirp-chirp-chirp. The sound of silence is loud, despite what some might say to the contrary.
Here are 20 things you need to be doing right now to promote a pet blog so that:
A) You get traffic;
B) You get remembered with return visits;
20 Write compelling content with a strong headline, a bold lede, one that is error-free and grammatically correct, and make it aesthetically pleasing. You wouldn't believe how many people don't do these things. Be in the minority and make it right. Put a fresh spin on a headline. "10 Ways My Dog is Hotter than Lady Gaga," for example. You get the point.
19 Be known in social media circles. Nothing drives me crazier than the person who loves to hear themselves talk yet never contributes elsewhere. Like me, follow me, G+ me, but yet they have no time to reciprocate? Promote your pet blog by visiting others.
18 Visit mainstream media websites and get to know some of the writers by commenting on their stories. Include your blog URL. When you are looking to pitch a story in the future and/or want a reporter as a source, you've already established a relationship outside of "pitch pitch pitch." Trust me, this approach works.Besides, mainstream media does read blogs, many of them.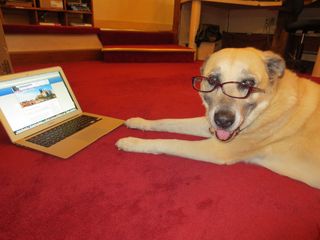 17 In her book, Red Hot Internet Publicity, Penny Sansevieri says that 45 percent of blogs are not updated more than every three months; this according to Technorati. This is good for active bloggers. Either be a blogger or don't; the worst thing you can do is start a blog and let it fade into oblivion.
16 Social media matters, so when you share a blog post on Facebook, keep in mind that photo posts get 50 percent more impressions than any other type of post. Be sure you own the photo or have rights to it.
15 Solve a problem through video. Now and again, show your audience your face, your life, your pets, and a problem solved. House that video on YouTube and refer to it when you are in Twitter chats or when the problem comes up on other social media avenues. There is a great beauty in a permanent URL. Oh, and brands love it, too.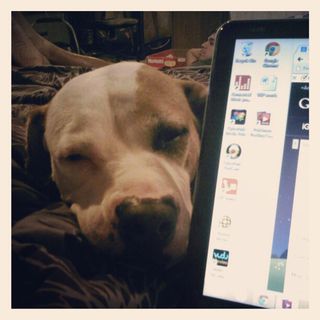 14 Comment on other blogs. I've writtten about it before, but it bears mentioning again. Form an intimate relationship with the bloggers who engage in Wordless Wednesday. If you have no idea what Wordless Wednesday is, now's the time to learn and engage.
13 Share a blog post with people in groups and communities you belong to. If you are into pet parenting, visit the Pet360 community; for those who are pet bloggers, join the BlogPaws Community and share away.
12 Have a contest on your blog and list it in some sweepstakes and contest sites. Blog contests will keep traffic coming from existing readers and often times, if done properly, will bring new visitors to your blog. You can also host a contest for a fee when selling packages to a potential client. Beware of contest junkies – when you post to a lot of sweepstakes sites, you might get traffic but not necessarily the kind who will return after the contest closes.
11 Write for other mediums besides your blog. If you write for a magazine, a newspaper, a fellow pet blog, or some other avenue, a whole new world opens up. New readers means more traffic: Win-win!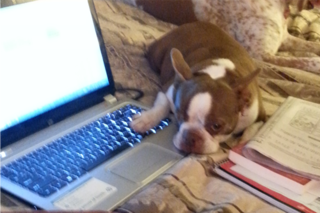 10 Have business cards ready. I meet a lot of pet parents in my travels for both fun and business. Sometimes we get to talking about their dogs and a problem or two might come up in conversation. Now and again, folks think I am a vet. When I explain I blog in the pet space, I feel really good having a blog business card to hand them. Most times, those people become new readers. Be prepared.
9 Step out of your comfort zone. Visit sites that have nothing to do with pet blogging or pets in general. I read a lot of things in a lot of different spaces, not all of them are in pet.
8 Get registered with some blog directories like Technorati. Many times, companies seeking bloggers are looking to reputable blog directories for their contacts.
7 Don't settle for peanuts or less. If a PR firm is reaching out to you to promote their product and is unwilling to compensate you in some capacity, think long and hard if you want to give yourself, your time, your talent, and your reputation away for free. They don't work for free and neither should you; at least in my opinion. That isn't to say there will never be a time to talk about something just for good PR and relationship building. I do that myself. Just proceed with caution. Get paid what you are worth.
6 Build traffic and know how to do so. I cannot begin to tell you how many people I encounter who blog and tell me they are so disappointed they can't earn a lot through online programs. If you want an income from blogging, then you need people coming to your blog. Attend a BlogPaws Conference, read the message and group boards in our community, and stay current with the latest methods for traffic building. If you don't water a garden, you can't cry when it doesn't grow. The same holds true with blogging.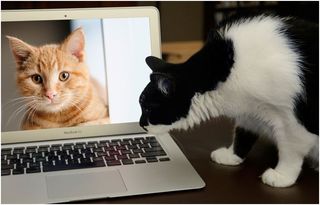 5 Start using Hashtags wisely in your Facebook posts and network with others using the same Hashtag. Take note: Hashtags must be used in the initial post to show up in the Facebook hashtag feed.
4 Follow Facebook page insights and get to know why people are coming to
your page and more. Not familiar with the Facebook insights and the new
changes and additions? Pawsible Marketing has a wonderful detailed post
about the topic here: Facebook New Insights.
3 Visit sites that key you in on hot topics and ideas for
your blog. I wrote about this in "Eight
Ways to Get Traffic to Your Blog" and these tips hold true. I still use
them!
2 Share your content. Make it easy to share with buttons on
your blog posts. Share blog posts on Twitter, Facebook, Google +, and where
applicable LinkedIn and LinkedIn groups. Be a source of advice and information
but not pitchy and self-promotional.
1 SEO for pet bloggers, or any blogger for that matter, is
important. Having been to all four BlogPaws conferences, I learned the value of
SEO (search engine optimization) and how to apply it to my own Fidose of
Reality blog. Guess what? The tips I received at BlogPaws worked! Guest blogger
Matt
Beswick shared some SEO advice on the BlogPaws blog.