by: Carol Bryant
Why 17? Well, why not, the number caught your attention, and headline grabbers are one way to get traffic to your blog. If the title is boring, despite stellar content, readers might pass you by. Keep reading though, there are indeed 17 (and thousands more) ways to get traffic to your blog.
If this sounds like a often-written about topic, it is; in fact, one of the most highly ranked search terms for bloggers of all niche; "get more blog traffic" speaks volumes. So turn up the speakers, here we go…
17 Let people know you exist. List your blog URL with BlogPaws Community where it will be housed in a permanent, regularly updates spreadsheet.
16 Comment, comment, comment. Outreach is key. If you want traffic, be a part of another person's traffic. Many of the bloggers whose blogs I regularly visit are found when we comment on each other's posts. It doesn't have to happen daily, but it should happen regularly.
15 Don't hide your comment box/reply feature. I cannot tell you how many times I've been to a blog and love what I am reading, only to be perplexed on how/where to leave a comment. If I have to search high and low, I might raise my paws and give up. Show me where to comment. Nice and clear.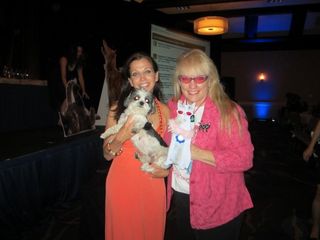 14 Drive traffic on Twitter. If you want followers, be a leader. Come to a #BlogPawsChat, make yourself known, say hello…we'll welcome you and so will a room full of tweeps. Our #BlogPawChat happens most Tuesdays during the month from 8 to 10 pm EST. Beginners, take heart, we've got you covered: If you're a Twitter Pawty Beginner, you can check out our own@CokietheCat's
"How to Pawty
Like an Anipal" or just show up, search for #BlogPawty, and announce
yourself as a newbie.
13 Have you tried Instagram yet? With the plethora of social networking
sites and services available, who has time for yet one more
app/platform/program? This is one you might want to give a second look. BlogPaws has a "how to  Instagram for pet bloggers" available. Have you checked it out?
12 Share what you are writing with fellow pet bloggers in the BlogPaws Community. In addition to Member News and Announcement, the Community is there for the taking: So take part.
11 Add images to your Facebook comments. Images are more likely to get you
LIKES and get shared than those posts without.Facebook now has a photo comment feature in response to posts.
10 Start using Hashtags wisely in your Facebook posts and network with others using the same Hashtag. Take note: Hashtags must be used in the initial post to show up in the Facebook hashtag feed.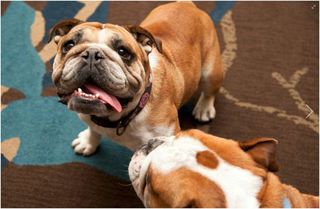 9 Add
links to your blog's social media profiles in your email
signature. Create a signature template that includes any links you desire. I use WiseStamp, but there are many others.
8 SEO for pet bloggers, or any blogger for that matter, is
important. Having been to all five BlogPaws conferences, I learned the value of
SEO (search engine optimization) and how to apply it to my own Fidose of
Reality blog. Guess what? The tips I received at BlogPaws worked! Guest blogger
Matt
Beswick shared some SEO advice on the BlogPaws blog.
7 Make Your "About" Page pop on your blog. Fun, real, engaging, thoughtful, and a summary of you. I bet it took me a week to get it right. I wrote my "About" section several times before settling on exactly what I wanted to convey from my blog. It doesn't have to be a Victorian novella, but it should summarize your blog for all the world to see.
6 Follow Facebook page insights and get to know why people are coming to
your page and more. Not familiar with the Facebook insights and the new
changes and additions? Pawsible Marketing has a wonderful detailed post
about the topic here: Facebook New Insights.
5 Don't say things like "your blog is really neat and I like what you wrote" if you do comment. It sounds spammy, and well, trite. Be yourself and relationship build. Ever date someone who did a lot of "uh huh" or "that's great, honey" and you know they aren't listening? It sucks, right? Well, for me it did. So I don't do it to others. I comment like I just read what you wrote or not at all. Be social 😉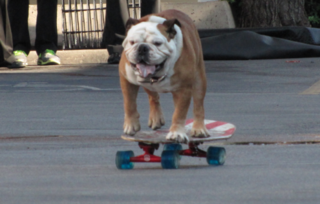 4 Don't neglect LinkedIn. I've found many connections on LinkedIn, but I am particular about who I allow to follow me. I don't need to know everyone, but I do screen the folks who want in. If someone wants to find out about me, they will. I'd rather have a combination lock on my LinkedIn fence than one that I forgot to lock in the first place. All cheesy analogies aside, complete your profile and be sure to Status Update now and again.
3 Each week, BlogPaws hosts a Wordless Wednesday Blog Hop on our
website. A Blog Hop
is a
blog post that includes a list of links to other bloggers' posts with a
common
theme; often the links include thumbnail pics. The list of links (linky
list) is
shared on multiple blogs. Participants can join the hop from any blog
that
shares the list. You get followers! You meet people. You learn things.
Win win win! Kristin Dewey of BlogPaws wrote a fab post on getting
engaged with the BlogPaws blog hops. If you do any one tip in this post, do this one. Right now. The next time the calendar says "It's Wednesday!"
2 Track your analytics. How many unique visitors do you get a month? What posts are drawing them in?  Robbi Hess shares a "guiding principles to more blog traffic" post; check it out.
1 Register for BlogPaws. If there is one thing I highly recommend to anyone who wants to boost their blog traffic and learn from the experts how to do it: Come to the next BlogPaws Conference. Vegas, 2014: Register here.