Post by Blog Manager Robbi Hess
"Creative" and "fundraising" aren't two words I typically associate in one sentence. However, when it comes to combining them, both Carol Bryant and Teri Thorsteinson have found a way to — very successfully — make them work. Because of the crazy schedules we are all under right now as we put the finishing touches on the BlogPaws Conference, which in less than one week will be in full swing, we had an email interview with these two creative, busy pet-loving ladies and this is what transpired!
How it all began
Creative fundraising to Carol, she explains came about because, in 2013 her heart broke into "tiny little pieces." She explains that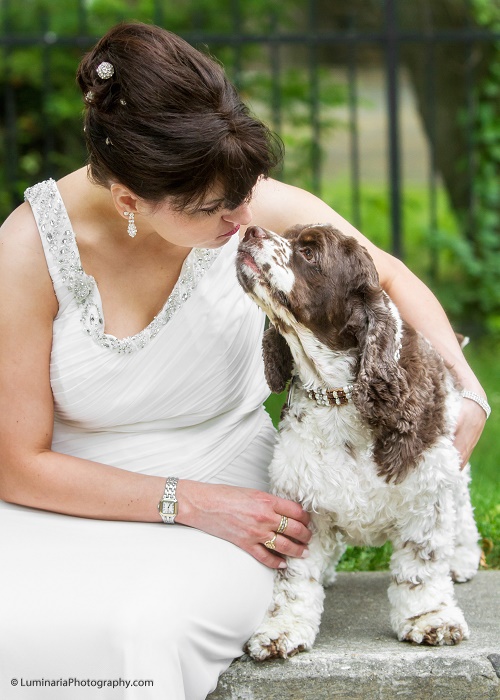 she is heavily immersed in the pet industry and has found her passion, her calling. "When I say my heart beats dog, I mean it. It also bleeds dog and breaks dog."  Because of that she knew she needed to find a way to raise awareness, and money, to help shelters and rescue dogs.
Teri explains, "I know we all get overwhelmed and even suffer mental fatigue knowing we can't help all the pets who are in need. One way around this is to focus on one specific area you can help. For me, it's cats and fashion. While I am not artistic and can't sew even a straight line, I know where to get outfits that are fun and comfortable for my cats, so that when they are participating in fund raising fashion shows, attract a lot of attention."
The collaboration
What brought these ladies together? Teri explains that it was their mutual desire to help rescues and their love of pet fashion. "This past year, first with attending the Wigglebutt Wedding and then participating in the Central PA Pet Expo and having a booth right next to the Wigglebutt Warriors, I got to experience how creative Carol is and how teamwork can produce something special!"
Carol gives a little background on the Wigglebutt Wedding fundraiser.  Her friend, Val Sorensen had a rescued cocker named, Zoe Elizabeth Sorensen and because their dogs got along so well they decided to have a dog wedding. "People love to celebrate in the name of dog, especially if those people are true animal lovers. What better way to celebrate dogs and encourage dog adoption with a positive spin than to have a huge pet-friendly gala?" The very successful wedding between Val's dog, Zoe, and Carol's Cocker, Dexter James Bryant, the Wigglebutt Warriors were formed.
"Wigglebutt Warriors is the official fundraising arm of Fidose of Reality. Crusading to save dogs' lives is our mantra." Their 2014
fundraising event is Wigglebutts Go Hollywoof. More details here.
Reaching out
With so many rescues and shelters in need of money and volunteers and with the purse strings of many having to be tightened, how can a shelter or rescue survive? Through creative fundraising these ladies explain. Teri says that, "Typically, there will be someone in your organization that is good in one area — decorating, cooking, artwork, photography etc.—have them focus on that, "she explains. "Stress that even though there are things they can't do (like fostering, transport etc), there are things they can do that will help pets and give them a sense of participation. It is necessary to get creative, to stand out from the crowd with all the competition from shelters and rescue organizations all vying to get your support and donations."
Teri says she sometimes feels individuals simply click past photos and requests on Facebook with the thought, "'Can't help that one' instead of thinking, 'how we can help'" The easiest way she finds to be creative is through photography. "When I see those photos of a pet in a shelter, with a photo looking more like a police lineup than a pet that one could imagine sharing their life with, I cringe." She says that a rescue or shelter operator should look among its staff and volunteers for someone who is a photography buff. If you're unable to foster or transport or don't have the money to donate, you can take creative photos of the pets, put them in a light in which someone will want to adopt."
How can creative photography become a fundraiser?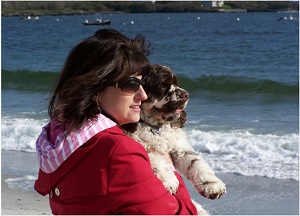 Teri explains, "By asking for a donation to have your pets photo taken at a fund raiser, at a pet fashion show, or in a holiday window display in a business one has built a relationship with, such as a pet boutique, a Grange Co-op or a veterinary office."
Carol stresses that, "We are all in this together. I don't look at other rescues or shelters as my competitors. If we all help one another the best we can, then the animals win. We are not competing, we are all in this to save lives. Being creative is what sparks the attention and interest of donors, dollars, and event attendees."
How are overworked shelter or rescue operators supposed to take on the seemingly monumental task of creative fundraising?
"Volunteers are at the heart of it. I will talk more about this in our presentation, but if a volunteer spearheads this, then asks for more help, it can be done," Carol explains. "I work with the folks at Oldies But Goodies (OBG) Cocker Rescue. I have a loving spouse who does so much to assist and OBG has a few special people who have gone above and beyond to help. Not all shelters and rescues are a physical location. Many are without a physical brick and mortar presence, like OBG. Fosters are the new norm."
Teri agrees that resources are limited but that shelters and rescues have to "think beyond mass mailings." She says, "It's face-to-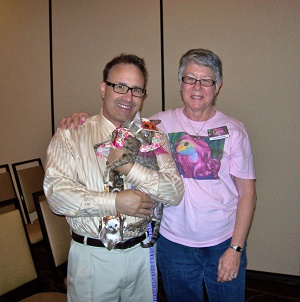 face contact and interaction that has the biggest payback. Instead of just setting up a table with flyers, cages with adoptable pets and a donation jar, have a dressed-up pet attend and draw in the crowd that way. I have many people ask it they can have their photo taken with Coco, the Couture Cat. Pick a pet from your adoptable pets that is amenable to dressing up and add that little something extra to your booth. Sometimes, something as simple as a bandanna or a pretty harness is all it takes."
You don't need fancy camera or video equipment, you can snap photos and take videos with your smart phone, Teri says. "Pick up some inexpensive props from a discount store, set up a theme photo shoot and get the pets involved."
Another idea Teri shares is to, "Attract people and increase interaction with them by hosting a contest involving school children submitting drawings of your adoptable pets and holding an art show along with these adoptable pets. The artwork can go to the highest bidder with the funds going to support the chosen shelter or rescue." This makes it a community-wide event and helps raise awareness of the shelter's work within the community as well.
Do I need a lot of training to learn to be a creative fundraiser?
"Wigglebutt Warriors is a passion from the heart. The yearly event is the equivalent of planning a human wedding each year," Carol explains.
Putting your heads together and working with each individuals' area of expertise is the best way for a shelter or rescue to be successful and creative, Teri explains. "I began dressing up my cats at cat shows I was participating in. At first, just hats (my first computer screen name was Katznhatz), and they always attracted a lot of attention from people." She said she never thought about how that could help a rescue and pets I need until she took her cats to the first BlogPaws conference. "From that experience, I have been focused on participating in fund raising fashion shows, and attending Pet Expos, trying to learn from those experiences how I can help fund raise in the future. Teaming up with Carol Bryant is very exciting! She has the style and the drive to put together fundraisers that are extraordinary and memorable. To bring a cat into the mix is a great way to expand the reach these fundraisers can have."
One doesn't have to put on a big production to have a big effect. Teri shares, "One group I see doing something simple is Siamese Cat Rescue of Virginia. They usually have a booth at cat shows and at Pet Fairs and they make and sell their own line of cat beds and sleeping mats, as well as cat toys and collectibles."
What kind of background do the two of you have in this area?
Carol has a "passion for pets and a lifetime of loving animals." She reads and learns and gets involved with pet rescues. "You don't need a degree to do it, but there are many rights and wrongs." She blogged about it recently and you can read that here.  Carol is s lifetime dog mom and is currently mom to her Cocker Spaniel, Dexter.
"My love for animals and my concerns for their welfare are driving forces behind my reason for being. I am experienced in speaking groups, enjoy knowing I have ended my day helping someone to take better care of their pet," Teri says. She has participated in a number of pet related educational seminars as well as fun outings such as Yappy Hours, Pet Blogger Meet Ups and of course, BlogPaws conferences as an attendee, she feels that working with Carol will broaden the reach of the pets that can be helped.
Growing up, Teri's family always had dogs, and she didn't get her first cat until she was in her 20's; and the rest is history. "I share my life with four cats, who I blog about, travel with and live and love with. My human blog rarely gets any attention from me, but my two cat blogs keep me busy. I began Curlz and Swirlz, Life with Cornish Rex Cats and a Sphynx named Disco NoFurNo in 2008, and this year created a blog just for Coco, Coco the Couture Cat."
Who should attend this session?
The ladies say that anyone who wants to help raise funds for a shelter or rescue and wants to find a way to get creative with their fundraising efforts. This session also kicks off the Meet The Rescues, so anyone who wants to learn, grow and get involved or even anyone who thinks they are experienced in pet rescue. "It will be a very memorable evening," Carol says.
BlogPaws Conference Shout Out
When asked why people should attend a BlogPaws Conference, Carol said, "I have been to all six and would never miss one. I could go on and on, but this conference changed my life, career and focus. The networking is golden, the education priceless."
Teri has attended all but one BlogPaws Conferences and they have been a real stimulation to her pursuing the direction of helping rescue and shelter organizations fund raise. "This past year has been a rough one for me, having lost my job and being out of work for four months. But I am now working again at an all feline veterinary practice and will work with the owner and manager of the practice to help local rescue organizations, with my cats in attendance, of course!"
About Carol: "A dog lover of the highest order," is how Gayle King introduced Carol Bryant when she and her Cocker Spaniel appeared on Oprah Radio's Gayle King show to dish dogs. A frequent media contributor, Carol has appeared on television, radio, and in print. As guest speaker at conferences and seminars about dog products and travel, she also has a passion for growing social media and helped one client land the "best dog blog" honor. A repeat nominee from the Dog Writers Association of America and writer for Pet360, Carol is the PR and Marketing Manager for BlogPaws and the founder of her own magazine-style dog blog, Fidose of Reality.
About Teri: She has been in the veterinary healthcare field continuously since 1972 and her mantra has always been 'I end my day knowing I helped someone take better care of their pet'. She is involved with the Cat Fanciers Association Ambassador Cat/Pet Me Cat program, and has attended four BlogPaws conferences, always with her cats along, as well as participating in pet rescue fundraising fashion shows. She is the brainchild of Coco the Couture Cat. Attending the BlogPaws Pet Blogger conferences with her cats really turned Teri on to just how much attention they attract and how she could use that to benefit cats in rescue. What began as a fun activity for Teri has begun to take a new direction, to use their appearances with the goal of helping rescue organizations  increase their exposure and raise funds through fashion! Connect with Teri: http://furrydancecats.blogspot.com and http://www.cococouturecat.com.
Mark your calendars: Saturday, Sept. 20, 2014, the Olde Towne Pet Resort in Sterling, Virginia will play host to "Wigglebutts Go Hollywoof," where Dexter and Zoe will walk the red "paw-pet" with 100 of their shining star guests.  Dexter and Zoe didn't get to take their honeymoon to "Hollywoof," so they are bringing the bright lights, big city, to all guests. This gala is pet-friendly!!!
Does your shelter or rescue need to find creative ways to not only fund-raise but to find loving forever homes for the pets there? Register for the Conference. All who register by the end of the day on May 2 will be entered in a random drawing for an AMAZING prize. Don't miss out!