By Chloe DiVita
I had the honor of being one of Natural Balance's guests for last week's Rose Parade. It was my first ever Rose Parade and the 5th float Natural Balance has entered. The event was amazing and I'm pretty sure my first Rose Parade is going to be hard to beat!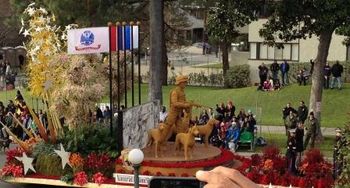 "Canine's With Courage" was the theme of the float. It was a replica of the new Military Working Dog Teams Monument that will be dedicated to their hard work in October 2013 at Lackland Air Force Base in San Antonio, Texas. San Antonio holds the military training facility for all military dog teams, and thus is the perfect place to dedicate the monument.
Having the chance to not only see the sculptures up close following the Rose Parade, but to speak with the soldiers that walked with their working dogs in the parade was emotional. To hear the story of Lucca, who lost a leg upon sniffing out an IED, but saved the lives of every soldier with her while petting Lucca and shaking the hand of one of the soldiers she saved, Corporal Juan Rodriguez, seemed surreal. Actually, it still seems surreal.
One piece of information that I learned about military working dogs is that they are treated like any other soldier. They are truly a part of the team. When a working dog is injured it is called in no differently than when a human soldier is injured. And, like in the case of Lucca, if a helicopter is needed to pick up the injured dog, they make sure there is room for both dog and handler. Basically, no matter who in the dog/handler team is injured, both always stay together. I call that pawesome.
I can honestly say that every handler there spoke of having their lives saved more than once by their dog. It gave me chills every time I heard it. Even writing it, it gives me chills. These dogs have such an important dog and when Dr. V, who was a part of the group I was with, asked them, "If there was one thing you wish the world knew about military working dogs, what would it be?" Everyone responded, in their own words, with the notion that the dogs are not just dogs. They are truly team members. They are part of unit and whether the unit members have two legs or four, they are all the same. They all have a job and they all do it with pride. Hearing that over and over is humbling and garnered more respect from me than I knew I had to offer. Saying "Thank you" just doesn't feel like enough.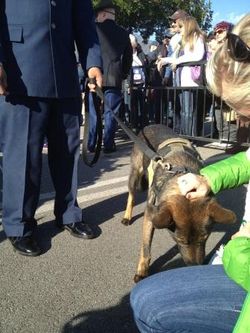 As I moved around the float at the after parade event I felt very inspired, but I'm not sure in what way. It just felt like the float, the monument, the soldiers, the dogs, the energy, basically every part of the day felt inspiring. It felt like the world was giving me a big hug all day long. I definitely need more days like that. I'm so thankful to Danielle, Judy, Rick, Joey and the whole Natural Balance team for inviting me to come and participate in what will be one of my most memorable days. 
Probably the most memorable experience from the parade was getting to meet and talk with Sergeant First Class Eric Pazz and his wife, Miriam. Everyone who was watching the parade live got to witness their surprise reunion while those of us in the stands, just far enough away to not be able to see the excitement, stood on our tip toes trying to figure out what was going on. Natural Balance wanted this reunion to remain a surprise and they protected that information like the working dogs protect their team members. We all found out what happened AFTER the parade! I got a clue when a friend posted this on my Facebook timeline: "The Natural Balance float was not only the BEST float, but also had the BEST surprise. We are both crying." At the time my only thought was, "What surprise?!?!" If you missed it, here is a recap:
To say the Pazz family was overwhelmed by the reunion and the media attention it created would be an understatement. Seeing them hold their 4 year old son, who was very camera shy but full of energy, and be awe struck was quite an experience. I asked Sergeant First Class Pazz if he had any idea that he was going to have this much media attention from his reunion and he said, "Noooo" as he half laughed and shook his head watching his wife give an interview in Spanish to Univision.
The family was more than gracious to everyone who wanted to speak with them. Miriam was relieved that she choose to actually get ready in the morning and not just roll out of bed to head to the parade, but already jet lagged from her flight from Germany and up at 3:30 am meant she had a long day ahead of her.
The family would get to spend about a week together before SFC Pazz would have to return to Afghanistan for a couple more months. He mentioned that part would be hard to explain to his son. And Miriam confessed that she never expected to be the center of a surprise reunion. She doesn't even watch them because it's too hard. I have a feeling she'll watch this one. 🙂
The two day trip felt like a week because so much happened during it. I got to talk with Sergeant First Class Charles Shuck and Gabe, the Hero Dog winner of 2012. I got to hear John Burnam from the Army talk about what inspired him to create the National Working Dog Teams Monument and all the different roles that dogs have when working in the military. I got to be one of the first to view the sculptures for the monument that is said to be making a tour around the U.S. for all to see before taking up its permanent residence. I got to meet Dick Van Patten and converse with Joey Herrick. And of course, Tillman was there. I love Tillman.
To sum it up, I started 2013 with a bang and the rest of the year now has very high expectations. Please hop over to Tout and check out the short videos I made of my experience and these photos, too.