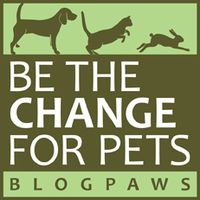 BlogPaws and World Vets, with the help of Dr. Jessica Vogelsang, are joining forces to create  The Blogger Disaster Response Network and we are inviting any interested blogger to sign up and be a part of it!
Dr. V, as most of us know her, offers her personal endorsement with the following message:
On March 11, 2011, the lives of thousands of people and
animals were forever changed by the devastating earthquake and tsunami that
pounded the coastline of Japan. While humanitarian groups rushed to the aid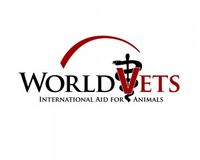 of
the displaced persons, the lives of thousands of animals were left in the
balance due to the destruction, the radiation contamination, and the forced evacuation by US military personnel.
World Vets, an organization that at that point had yet to
coordinate an international disaster relief response, was the first animal
relief organization on the ground in Japan, within 72 hours of the disaster.
They provided much needed supplies, support to local veterinarians, and
manpower to address the complicated issues that arose in the days and weeks following
the disaster.
As a small organization that relies on social media to help
get the word out about their work, the BlogPaws community felt compelled to
help World Vets in their efforts. On March 17th, BlogPaws Be the Change for Pets launched the Paws for Japan Blog Hop,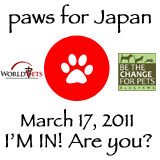 an awareness campaign
that led to World Vets having their single most successful fundraising day in
the history of the organization. The donations from that day allowed World Vets
to continue their work in Japan beyond the initial days, help evacuated
military families reunite with pets, and set up long term relationships with
local rescue groups.
The grassroots efforts of a committed group of animal lovers
was key to the success of the Paws for Japan effort. World Vets is proud to announce
it is teaming up with the BlogPaws Be the Change for Pets community to create
the Blogger Disaster Response Network, the first of its kind. Members of this
voluntary organization will be the first to be notified of a global disaster
response effort through World Vets, and given all the information they need to
help spread the word about how people can help.
"I am continually reminded of the power of the pet blogging
community. It is a truly potent force," says Jessica Vogelsang, World Vets
Media Spokesperson and BlogPaws Be the Change for Pets member. "To have the
opportunity to create a network that will harness this power in the short
time frame demanded in a disaster situation is a truly unique opportunity, and I
couldn't be more thrilled that BlogPaws is going to be a part of this history
making network."
Are you in? Sign up here and spread the word. The more bloggers that we can contact when a disaster strikes, the bigger the positive impact we can make.
UPDATE 10/29/12: Here is the Blogger Disaster Response Network badge and code – grab away!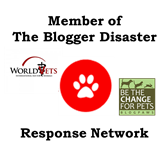 <a href="http://blogp.ws/BDRNhm"><img
style="align: center;" alt="BlogPaws Be the Change For Pets and
World Vets Blogger Disaster Response Network" title=" BlogPaws Be the
Change For Pets and World Vets Blogger Disaster Response Network "src="http://www.blogpawsbethechange.com/images/BDRN_Badge_160x160_new.png
" border="0"></a>