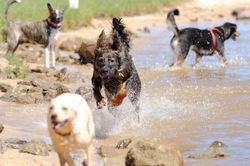 All of us have been affected by cancer, whether personally, through a friend, a family member or a pet. Yesterday was LIVESTRONG Day, the Lance Armstrong Foundation's global day of action. Many shared their stories and took a few moments to honor all those affected by cancer. Personally, I lit a candle for one of my best friends, my sister-in-law, who will always have a place in my heart and who fought with all her heart until the very end on August 26, 2006 at just 34

years young. She inspired me in ways that I will never be able to put into words, but I know she would be so happy knowing where I am now and how BlogPaws is supporting animal welfare. She loved animals and they loved her.
This past weekend hundreds of people and pets gathered in Silicon Valley for Morris Animal Foundation's K9 Cancer Walk. As a leading cancer research supporter, Morris Animal Foundation (MAF) raises funds to continue their great work. One week prior to the walk in Silicon Valley they had a walk in Knoxville, TN, and between those two walks they have raised thousands and thousands of dollars for canine cancer research. Considering 1 in 4 dogs will die from canine cancer, the funds they raise are necessary to keep moving forward in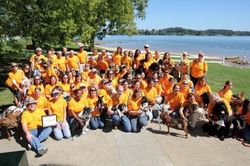 the fight against canine cancer. MAF is definitely living STRONG! 
BlogPaws donated $2,000 to MAF's cancer research during our 2012 conference in Salt Lake City, thanks to an attendee from Tripawds who nominated them for a donation. As is tradition at all our conferences, BlogPaws does a random draw of one attendee and donates to the shelter of that attendee's choice. MAF was surprised and grateful for their donation and we know they are putting it directly towards research that will positively impact thousands of lives.
If you attended one of their walks please share your story and pictures on our Facebook page, or MAF's Facebook page. Or share your stories and memories of pets you know affected by cancer in the comments. MAF will be holding two more walks in 2013, one in San Diego and one in Elk Grove. If you can't be there, you can still support the cause anytime throughout the year.
 All images courtesy of ©Douglas Folmar