BlogPaws is proud to give back and support rescues and shelters in the host city of our yearly conferences. This year, BlogPaws will be donating on behalf of our Nose to Nose award winners to two groups. In our first interview with shelter recipients, we introduced you to Lucky
Dog Animal Rescue. Now meet our second local shelter donation recipient, Washington Metro Ferret Outreach.
WMAFO is a 501(c)3
non-profit ferret rescue that was founded in the fall of 2010 by three women
who currently serve as board members. WMAFO includes Bonnie Russell of
Baltimore, MD; Lisa Oestereich of Silver Spring, MD, and Stephanie Richmond of
Norfolk, VA. They are all volunteers, and their rescue is 100 percent funded
and staffed by volunteers, donors and fundraising events.
Here's the scoop on
WMAFO in advance of meeting them in paw-son at the sold-out BlogPaws 2013
Conference:
BlogPaws: Welcome to BlogPaws, Bonnie. How did you get involved in WMAFO
and why?
Bonnie Russell: In 2010, a well-known and very large Northern VA ferret shelter
closed its doors, leaving a ferret specific shelter gap from Richmond, VA to
just South of Baltimore — a serious void.
Since most county shelters are not equipped nor trained in caring for
ferrets, this presented a big problem. In
fact, ferrets are illegal in the District of Columbia so there is definitely a need
for them to be picked up from the DC shelter quickly after intake.
We knew the lack of a ferret shelter for such a long distance would mean that, literally, ferrets could die. People release ferrets outside not
realizing that ferrets can't survive in the wild, give them away, or list them
on craigslist where they risk being "re-homed" for free as potential food for
snakes.
The three of us decided to step up and form a home-based ferret rescue and outreach where we could accept surrenders from county authorities and private residences. We then assess the ferrets health and personality, get them vetted and vaccinated, and then go in search of permanent "forever" homes via Petfinder, and Social networking. We feel that our screening
process, which includes a home inspection, ensures that the ferret will have
the best chance at a forever home. We also attend Pet Expos and similar events to help educate the public whenever possible and do yearly lectures for the University of Maryland in their Animal Science department. We network constantly with the ferret world, but are just starting to realize the benefits of networking with other types of rescues.
BlogPaws: What areas does WMAFO service?
Bonnie: WMAFO services Northern Virginia, the District of Columbia, and Maryland. We are flexible in Virginia and have travelled as far East as Warren County, and as far South as Stafford County.
BlogPaws: Tell our readers and attendees about some of your favorite rescue stories/moments.
WMAFO: Not long ago, we got a call from the Prince George's County Animal Shelter. Someone had brought in a ferret that they found abandoned in a hallway of an apartment building and she
didn't look well. We immediately went there to check it out. Upon arrival, we found a female ferret that was literally only hours from dying. She obviously had adrenal disease, but had also been starved and was nothing more than skin and a backbone.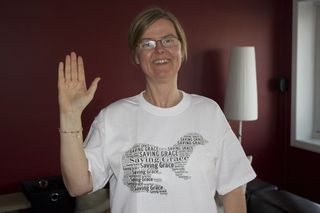 We rushed her
immediately to our vet, where she spent the next three weeks in intensive care, getting fluids, constant blood work, transfusions, round the clock hand
feedings and meds. We named her Grace and we posted her heart-wrenching pictures and story on our Facebook page. To our astonishment, her story went viral and touched the hearts of ferret and animal lovers from around the globe (Australia, England, France, Italy, Austria, Brazil, Mexico, Canada, Russia, Czech Republic, New Zealand and all over America), who responded with prayers, well wishes and donations which helped us cover the costs of all of Grace's intensive care costs. Thousands of people cheered for Grace as she started to improve, sending daily prayers and some sending actual gifts for her.
These people touched our hearts as much as Grace did! Sadly, Grace did not make it – her little body gave out about three weeks after we rescued her…..and the whole world grieved with us. An experience that will
stay with us forever.
On the other hand, finding the perfect forever home for ferrets that have tarnished reputations as "biters" is always rewarding. Recently we took in two young ferrets under a year old who had been passed around from pet store to a family, to animal control, to a temporary foster, difficult to place. After several weeks of socializing them with human and ferret companionship, a relationship of trust was developed. Not long after, we found a wonderful young couple in their mid-twenties who wanted to take on the "challenge". Although they would be first time ferret owners, they were dedicated to doing whatever it would take to make the ideal loving and trusting environment these two girls needed. A match made in heaven. We know things are going well when we get follow up e-mail updates!
BlogPaws: How can folks get involved to help and learn more?
Bonnie: Folks can learn more by browsing our website at www.wmafo.org, and by joining our Facebook page at https://www.facebook.com/pages/Washington-Metro-Area-Ferret-Outreach/155395641184667?fref=ts
Or
by following us on Twitter at @WMAFO
Anyone
interested in helping us out, can write to info@wmafo.org