From the Editor's Desk:  We received this press release and just had to share the excitement and the great news about the funds raised at the annual Fur Ball.
The Fur Ball, Humane Society Silicon Valley's annual black-tie fundraiser that brings people and pets together, held  April 12, which hosted 530 guests and some of their well-mannered, even well-dressed canine companions, raised more than $885,000 in life-saving funds for the 85-year-old  organization, a new record and 21% increase from last year's 10th anniversary gala!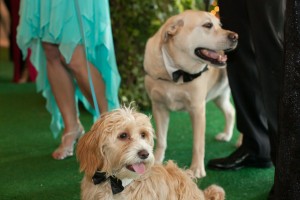 This year's theme, "Animals in Wonderland," took guests and sponsors on a journey realizing their role in helping Humane Society Silicon Valley (HSSV) continue to meet its mission goals, providing comprehensive, community-minded solutions to address the medical and behavioral needs of homeless animals, as well as supporting the needs of pet owners and potential adopters in our shared community. HSSV plays a vital role in finding a loving home, the true "Wonderland", for the thousands of animals that come through its doors each year. Because HSSV has been saving 100% of healthy animals in their care since 2006, the funds raised will help focus the organization's goal in saving even more animals that require medical procedures or behavioral rehabilitation.
HSSV President Carol Novello addressed the audience asking them, "What would a wonderland be for homeless animals? I think for many, it would be something as simple as a loving family. It would be the ability to live a life free of pain or disease. It would be a safe place to go … It would be a chance for a better future." Novello continued, "With your help, we're building the road to get to that future, to be able to offer each and every homeless animal that most basic of wonderlands."
She concluded, "And because of your ongoing support, we have a lot to be thankful for tonight. This year, Humane Society Silicon Valley celebrated its 85th birthday and on April 20, we'll have been in our new facility for five years. We are celebrating over 15,000 adoptions since we've been in our Animal Community Center…"
About Humane Society Silicon Valley: Humane Society Silicon Valley (HSSV) is an independent, non-profit animal shelter that has been serving people and pets for over 85 years. In April 2009, we moved from Santa Clara to our new Animal Community Center in Milpitas, the first environmentally "green" certified animal facility in the country to offer an adoption program with a full spectrum of pet and community services. We also operate multiple satellite adoption centers in PETCO in the El Paseo Shopping Center in San Jose and on El Camino Real in Sunnyvale. For more information, visit www.hssv.org
Photo: Humane Society Silicon Valley alumnus, Teddy (front) enjoying The Fur Ball with his "brother," Lucky.