Do you have a special someone that occupies a part of your mind? Express your feelings at the BlogPaws DIY event on Friday, May 17th during the BlogPaws 2013 conference. Or visit the craft tables in the exhibit hall anytime during the event and hand craft an Honor Flag!
What is an Honor Flag? The simple physical description is 2 pieces of cloth with writing on it. It is the emotions you put into creating the Flag that make it special. These Flags let everyone see the love you have inside for that special someone. Those "someones" can be dearly departed pets, a local rescue, or a person that has inspired you to be the change for animals.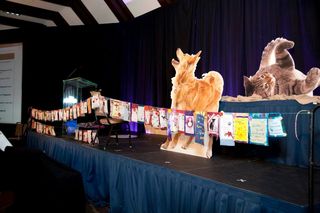 Honor Flags are based on Tibetan Prayer Flags which are hung so winds can scatter the prayers. Our Honor Flags may not flap in the wind, but they have an incredible powerful impact when seen all hanging together. Healing energy just radiates from the Flags. These are the 2012 BlogPaws Honor Flags! The whole room gasped when they were placed in the spotlights. The 2012 Flags will be displayed along with the 2013 flags. It should be spectacular!
What kind of supplies will there be? Colored flag and plain message fabrics, permanent markers, "tube" fabric paint, embellishments – flowers, buttons, ribbon, beads and threads, rubber stamps, and whatever else I find that strikes my fancy! Feel free to bring embellishments.
What size are the flags? The Flag is about 6-7" wide by 13-14" tall. This allows for the flag to be folded over the line. The message fabric is about 4" wide by 8-9" tall.
Want a flag but you can't make the conference? Leave a comment on this post and BlogPaws with the wording. Someone will be glad to make a Flag as well as take a picture for you.
Not artistically inclined? Or, do you want a picture of your special someone on your flag? You can print your flag before you arrive. Search "fabric printer sheets", and you can easily find some. Once at BlogPaws you can put your flag together, or you can even assemble it at home at your leisure. Please note: There are no printers available at BlogPaws for our use.
I hope you will participate in this incredible expression of love.
See you in May!
Questions? Suggestions? Contact MaggieTKat at yahoo dot com.