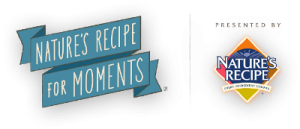 BlogPaws is honored to be sharing special moments with our pets brought to you by Nature's Recipe® throughout February, which we have dubbed Spoil Your Pet Month. What better way to spoil our pets than to love on them and share the bond we have with them with the world?
Today kicks off our Spoil Your Pet Month blog hop where we invite you to link up your story about the bond you share with your pet. What moments do you feel are most special for you and your pet? What creates the perfect #RecipeForMoments from your pet's point of view?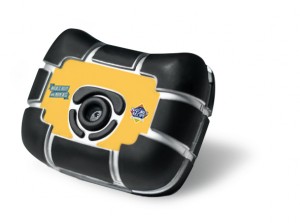 Share your story with us for a chance to win one of five Nature's Recipe lightweight collar cameras for cats and dogs. Using the first-of-its-kind camera, you are able to capture memorable photos from your pet's point of view. Plus, create and edit a digital scrapbook. From there you can share those special moments with the world through social media channels.
Our Blog Manager, Robbi, shared how special her Henrietta is to her:
"When I adopted my poodle, Henrietta, I'd fallen in love with her through pictures so I was smitten before I even held her in my arms.
"Because she was so flea infested and coated with perfume I took her immediately to my veterinarian who pronounced her healthy, even though she was far too young to have been taken from her mother. She weighed in at two pounds the day I brought her home; my smallest cat weighed 11 pounds.
"Henrietta was tiny, needy and craved almost constant attention. Although I'd grown up with a houseful of cats, dogs and a horse, Henrietta was the first pet who was truly "mine." I'll admit I doted on her, dressed her in outrageous outfits, let her sleep in my bed and carried her most of the time (mainly because the cats, I believe, were convinced she was a guinea pig).
"I experienced the true human animal bond with her when I was going through a difficult time with my health. The attention I'd lavished upon her when she was a puppy was turned around and she gave attention. If you know anything about poodles, they are excitable, bouncy, yippy bundles of fur and Henrietta was no exception. But, when it came down to it and I needed to recuperate she sensed that and rather than pouncing on me as she usually did, she would move slowly to sit next to me, she provided comfort, compassion and silent support.
"Henrietta is a high-maintenance diva, but when I am stressed she senses my mood and comes and leans against my leg if I am working. When I am anxious she will nudge her head under my hand and rest her paws and head on my leg as if to say, "It's going to be all right." She is the best stress reliever I have and I know I can rely on her to entertain me with her antics and to provide moral support when needed. She is more than a dog, she is my heart."
We look forward to reading all of your stories as you link them to this blog hop. Each post linked below will also get pinned to our #RecipeForMoments Pinterest board. Follow the #RecipeForMoments hashtag on all social media channels to read more special moments with pets. If you need help joining the blog hop, here is a video to help guide you through linking up.
Blog hop contest winners will be drawn randomly using randomizer.org on or about March 3, 2014, and notified via email. Please be sure to use a valid email address when entering your post link to the blog hop. Bloggers participating in the Recipe For Moments campaign, BlogPaws employees and consultants, Pet360, Inc. employees and consultants, and Del Monte Corporation employees and consultants are not eligible to win. You must be 18 years of age and a U.S. resident to be eligible to win. Read here for the Official rules for all Contests and Sweepstakes on BlogPaws websites.
This blog hop is sponsored by Nature's Recipe on behalf of the BlogPaws Blogger Network.  Nature's Recipe is not responsible for the content of this article.