By Kristin Dewey, BlogPaws Special Projects Manager

This week, September 17 -23, 2012, Petfinder.com is celebrating Adopt-A-Less-Adoptable Pet Week, encouraging people to adopt pets who are considered 'less adoptable' due to breed discrimination, ageism, special needs, i.e., blindness, deafness, mobility issues, FIV+ cats – and for some reason perfectly healthy black dogs and cats have a tough time being adopted, as well.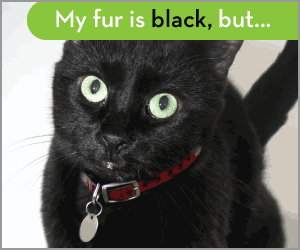 Petfinder has been helping other organizations and individuals plan their own events and endeavors to feature less adoptable pets this week, too. They're sharing graphics, customizeable press releases, tips and ideas on their website here.
Check out their gallery of very special pets that Petfinder member shelters and rescue groups have nominated, who they are hoping will be adopted this week.
This really hits home with me, having an 18 year old cat (Cokie) with a spinal injury that's had him wearing a diaper (MAN PANTS!) for more than 5 years. He's the love of my life, and I'm terrified at the thought of what would happen to him if something happened to his dad and I, and we weren't here to take care of him. Who would adopt him? I'd like to think he has enough BlogPaws, Twitter and Facebook pals who know and love him, that someone would take him. He's not a simple cat. But he's an awesome cat!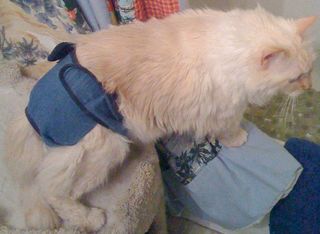 I'm participating in Adopt-A-Less-Adoptable-Pet Week, myself, on Cokie's blog. See the beautiful 14 year old lab/retriever mix from our local L.A. City Shelter below? I'm hoping to find a home for him before he's euthanized. His name is Edward. Please click here to read more about him.
In 2010, I featured a 5 year old tabby for Adopt-A-Less-Adoptable-Pet Week who'd been at the same shelter too long – and painted a digital portrait of him in my campaign to get him adopted. I don't know if my portrait or my efforts had anything to do with it, but he did get adopted that week!
 For last year's campaign, I promoted the heck out of two of Eldad's dog rescues from HopeForPaws.org, mom and daughter Sara and Abby. You can watch their rescue video here. And yes, there were adopted, too. Again, I don't know that I can take credit, but I sure put in some effort!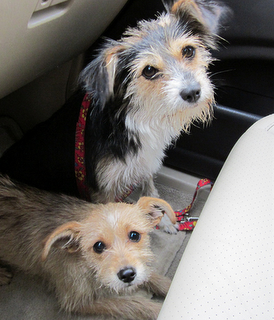 We'd love to know which other BlogPaws members are participating this week. Please leave comments below with links to your efforts to find homes for 'less adoptable' pets. Good luck!