Post by Blog Manager Robbi Hess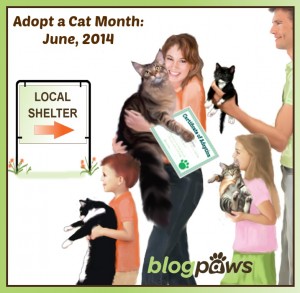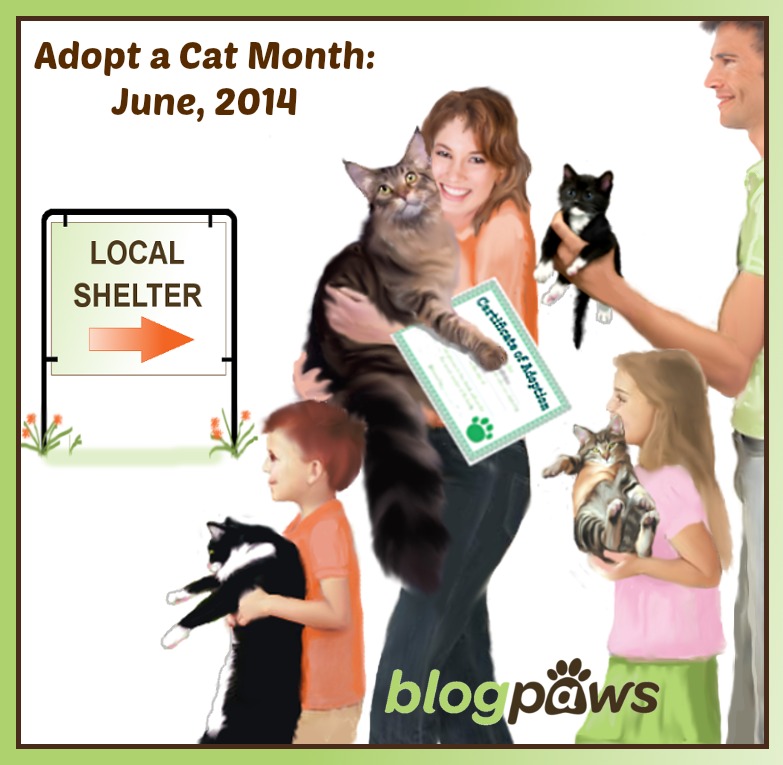 As the proud owner of three cats adopted from a shelter and one saved from a box at a roadside fruit stand I can tell you, the love and affection you receive from a cat can be right on par with the love you receive from your dog. Of our four cats, two of them rush (right along with Henrietta) to meet me at the door when I come home. The second I sit down on the couch, the at least two of the cats will come over to grab a piece of my lap to share with Henrietta. When I wake up in the morning, they are right outside the bedroom door, purring away and happy to see me — actually at that point I think they're happy to see the designated filler of the food dishes, but you get where I am going with this!
This month BlogPaws celebrates Adopt a Cat Month and we invite you to join our blog hop and tell us why you love your adopted cats. You can join the blog hop here.
Here are my other top seven reasons you should adopt a shelter cat:
The most important reason to visit your local shelter to adopt a cat is that you just might save a life. This time of year the shelters are typically overrun with kittens being brought in or dropped off because the parents weren't spayed or neutered. In some cases, shelters will have to euthanize. Your adoption of a shelter cat or kitten will save a life!
If you want variety, it's likely that your local shelter is home to cats of all shapes, sizes, ages and colors. Want a black kitten? I'll bet you can find one! Calico adult? Of course! Short hair? Long hair? Visit your shelter, I imagine there will be at least one cat or kitten that will be exactly what you're looking for.
If you adopt from a shelter, the shelter operator will be there to help you choose the perfect companion. Do you want a cat that will follow you around like a dog? The shelter operator or volunteer will be able to point you in the right direction. Are you in favor of a kitty that is more "cat like" and "stand-offish" until he wants attention? The shelter operator will know which cat fits that bill as well. Whether you're looking for playful or couch potato, the shelter operators are intimately acquainted with the cats in their care and will help match you up with the ideal companion.
If you've ever gotten a kitten from a roadside "free kitten" home you know the amount of time and energy, not to mention money, it takes to get your new family member vetted, neutered or spayed and vaccinated. If you adopt from a shelter, the cat or kitten is ready to go. You will be adopting a pet that will already be spayed or neutered (that is part of what your adoption fee covers) as well as having been vetted and health checked.
A cat will help you be healthier! It's true! Having a pet in the house has been shown to lower blood pressure and relieve isolation. Your cat will be a companion who will love you in good times and bad, he won't care if you're having a bad hair day or if you don't feel like talking. Your cat will be there for you through thick and thin with a loving head bump and a soft, furry body in need of petting!
You can show your children what it means to be compassionate and care for another living being. Showing your children the benefits of adopting a cat or kitten from a shelter may also help them grow into compassionate adults who will have developed a lifelong love of pets.
Supporting a local shelter through your adoption will also be a way to not support inhumane cat breeding practices. As an example, many of the kittens you find in a pet store may have been bred from parents who were used solely for that purpose. A shelter cat adoption, and the fee you pay, will help support the other cats in the shelter and who knows, when you go to adopt your new companion, you may just be inspired to become a volunteer and spread the word about your experience and help other deserving kitties find a home!
Have you adopted a cat or kitten? Tell us your story!
(Photo: Shutterstock Green Eyed Cat)