By Guest Blogger Missy Johnson
(Yesterday Missy wrote of the vision she had to paint 80 dog portraits in 80 days and what became of that vision)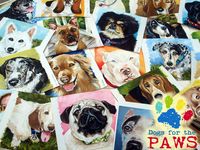 I saw the movie, "Julie & Julia" about the writer who cooked her way thru Julia Child's cookbook and wrote a blog about it. This is what gave me the idea for the blog. It looked easy enough, but I am an artist not a writer, so I planned to have the participating dogs' families write the stories.  I would paint the portraits, post them on Twitter, Facebook, and the project blog www.dogsforthepaws.com.  I did set up the blog using the basic blogspot.com part of the blog address. It was only recently I bought the domain name.  The plan was coming together nicely, but from an idea you have to consider an image so that you can promote and have people recognize you.  The project had a name but needed a logo.  Since I was painting the portraits, I went with a simple but colorful image the paw in a lot of colors. I picked a funky, trendy font and put it all together.  If you are not an artist, there are many affordable designers that can help you with developing your image and logo.  You can also use a great clip art site, such as iStock or Vectezzy to find an image to use.  With a little work you can have a logo, plan and blog site set up and ready to go within a few hours.
As I continued painting, learning how to post on the blog, Facebook and Twitter, something miraculous began to happen. I was painting and posting and people were starting to join the blog, Facebook and Twitter pages.  I would post a new dog and story, and have INSTANT comments from friends and followers.  My little "art project" as I call it, was beginning to become a reality with a group of pet lovers just like me.  People who want to do something to help animals in need. To learn how to better use social media, I took an online class. With Facebook and Twitter I posted to all the different pet groups, magazines online and published as well.  Also, I posted to all my pet friends, current and all the new friends I was meeting along the way.  Folks seemed to find the stories of these rescued pets to be inspiring and they loved the art presentation.  It's that simple, friends.  Take all the parts and pieces and present it in an engaging and unique way and your passion will drive you to success.

With the world at my fingertips through Facebook, Twitter and the blog, I would post and share to all my local sites, as well as national sites, groups, events, etc. The project was first introduced nationally by DogTipper.com and it continued to gain popularity and friends.  The project has been featured in many online and published magazines as well as FIDOFriendly, All Things Dog Blog and PeoplePets.  The PAWS PACK families, as they are fondly known, have written and contributed stories and posts to bring more attention to the dogs and the shelters/rescues that found these animals.  More and more people started sharing as well and the portraits began to get the attention of so many people.  I spent about three hours every night, just working with the social media and interaction with fans.  Also, there was painting every night of the week. I was excited! This project was being noticed all over the country and I was invited to paint all sorts of unique rescued dogs.  My first portrait was of my own rescued dog, Wyatt Earp. However, this blog touched on every breed of dog and every subject that had to be addressed by the rescuing shelter or group…from fighting dogs to senior pets.  From Nico, the Dogo Argentino, Faith, the very well known two legged dog, Rosie, from the Basset Hound puppy mill, Chamberlin who has sparked the WORLD with his amazing story of recovery and Target, the Afghan Hero dog who was named USA Today's Most Heroic Dog of 2010…the project dogs are all inspiring.  I tack the paintings on my studio wall so that I can remember what I am suppose to do — inspire others to be the change for all animals in need.  The group is not breed specific, which makes it fun to read about Azera, The Nova Scotia Tolling Water Retriever to Riley the Labrador mix senior who lived 13 years of his life on the end of a chain.  The stories are heartfelt.  I always joke that I have kept the Kleenex Company in business while working on the portraits and reading the stories, and crying through many days and nights.
After the idea first popped into my head and until I finally finished the paintings, people have wanted to share, post and talk about the project.  They asked when the next painting or story would be posted, etc… Some hope that posting on the blog about a rescue group that needs to raise funds might get attention and support from other animal lovers.  Pet lovers meeting other pet lovers, from all over the world, using the blog, Facebook and Twitter pages. I sit in Charleston, South Carolina, doing my art, and looking at the studio wall with the coolest "wallpaper" you have ever seen.  
This simple little idea of 80 dogs' portraits, with 80 stories or their rescues, has grown to almost 3000 fans from Twitter to Facebook and the numbers continue to grow daily. It really is a reality that is coming into its own, with an active support group. I am truly amazed!
Just remember that not every idea will become reality but with your heart and passion for your idea, you can make a difference and find success, just by being the unique individual that YOU are.  For my birthday my Mom gave me a sign that reads: "Uniqueness: "Today You are You, That is Truer than True. There is No One Alive Who is You-er than YOU"
Now go make a difference!