On Thursday, May 16, there is a limited seating engagement featuring Kenn Bell for his "Anatomy of a Video" workshop during the BlogPaws 2013 Conference. It is first come, first served, no signing up required.
Join Pro Filmmaker Kenn Bell as he breaks down his latest Dog Files
Episode,revealing, step by step, how it was created from beginning to
end. You'll learn how he plans out his videos, how he films them, and
how it edits them. Plus, he'll tell you some of the backstories behind
the videos and explain how it all affects the final piece. Kenn will
answer all of your questions about the Dog Files Episode, so you'll have
a better understanding of how to create your very own videos. Here's the scoop with Kenn:
BlogPaws: Hey, Kenn, welcome back. How many times have you been to the BlogPaws Conferences?
Kenn Bell: This will be my 4th time.
BlogPaws: What
specifically what will you be speaking about at BlogPaws?
Kenn: As I
always do, I'm speaking about communicating with your audience through the use
of video and how to tell a story with emotion and impact. 
For
part of the class, I will be filming an interview with Tom Collins so people
can see how it's done.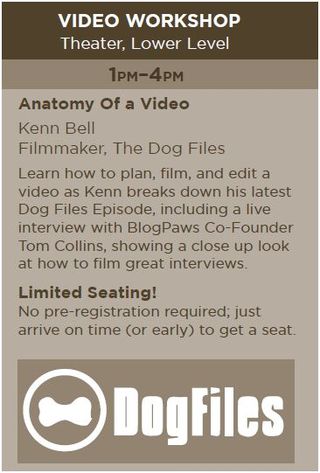 BlogPaws: 
What do you hope people gain/learn by attending your session?
Kenn: I want
people to understand that a story is successful because it affects the audience
into feeling something and/or doing something.
BlogPaws: What is your favorite aspect of attending BlogPaws/what do you most
anticipate as an attendee?
Kenn: It's always meeting and hanging out with old and new
friends.  I also love meeting all the dogs.
BlogPaws:  Do you have pets and if so, who are they?
Kenn: I have two dogs, Max & Remy. They will be with me at BlogPaws this
year.(ed note: YAY!)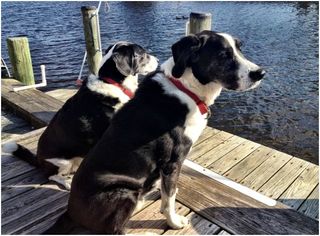 BlogPaws: Where can people learn more about you?http://thedogfiles.com http://twitter.com/dogfiles and http://Facebook.com/dogfiles 
BlogPaws: Just for fun, what is something about you people would be surprised to
learn?
Kenn: I
used to be a roadie for Def Leppard, Aerosmith and REM.
BlogPaws: What is a favorite blog or blogger you follow regularly? 
Kenn: Dino Dogan

Join us for the nearly sold-out conference (hurry, get tickets asap) –
at the BlogPaws 2013 Conference. You
will have access to a variety of "tracks," including 101 for Beginners,
201 for
Intermediate level, and even a Pro Level for seasoned bloggers who want
to take
their blogging and goals to the next level. An exclusive 4th track
will cover a variety of topics from Law to Lifestyle to Be the Change for
Animals.